Annual marketing planning: still relevant in an always-on world?
This year's brandgym research project looked at the annual marketing planning process (sometimes called 'brand planning') and how to make it more effective. First, we wanted to explore whether the annual marketing planning process was still relevant at all in an always-on, digital world. We then looked at how effective annual marketing planning is at inspiring business growth and the explored the most important inputs to marketing planning to make it as effective as possible.
The research used a quantitative survey of 100+ senior marketing professionals across the globe and sectors. We also did in-depth interviews with marketing directors to get first-hand experiences. Findings are further brought to life with examples from our own brandgym work.
In this post, we look how at important annual marketing planning really is and share three of the five recommendations from the research. To get the full research paper with all the findings and recommendations, simply pop your email in the form below and click the red button.
Annual marketing planning remains key… but needs to improve
Even in an always-on world, the vast majority of marketers (93%) still create an annual marketing plan. And the process remains a vital way of driving brand and business growth: 75% rate it as extremely important, up slightly versus 2011, with the remainder rating it important.
However, a mere 12% see their current process as highly effective and almost half (47%) rate their process effectiveness as neutral or negative. Key challenges that emerged in our research included:
Getting the right balance of strategy vs tactics
Having enough insight
Designing an efficient and collaborative process
Recommendation 1: Better balance strategy and tactics
Almost all marketers say the focus for annual marketing planning should be on longer term, strategic brand building, either solely (45%) or alongside short-term, tactical activity (54%).
However, almost 30% of marketers surveyed say that in reality their marketing planning focuses only on tactical short-term sales driving activity, sometimes called 'performance marketing'.
Recent learning from brands including Airbnb and Adidas shows the benefits of re-focusing marketing plans to better balance short-term tactical activities and more strategic brand building.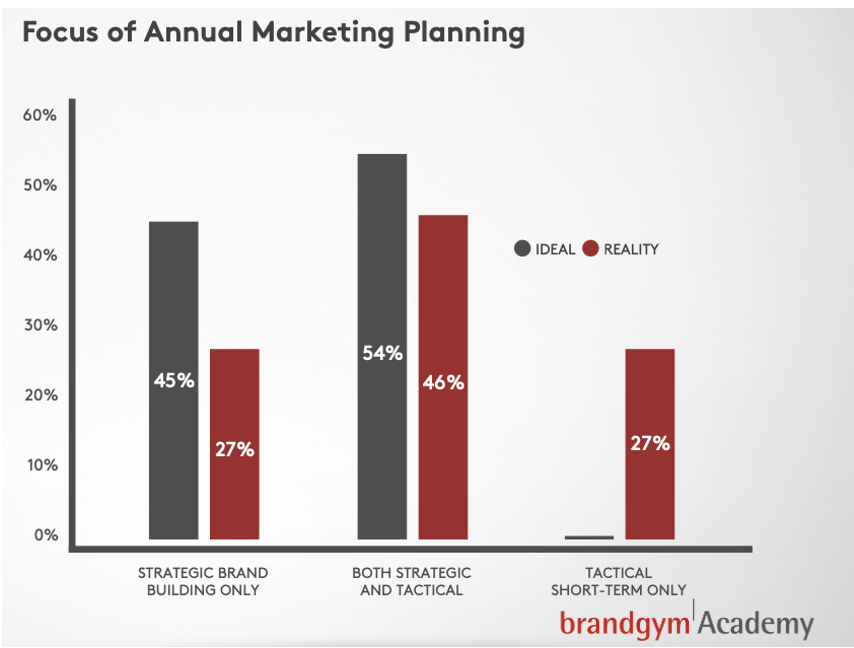 Recommendation 2: Use fresh insight as fuel
Fresh insight is the marketing planning input that is both important and in need of most improvement (see below). "There are no insights in our planning: people go straight from data to actions and initiatives!," observed one marketing director. Specific recommendations on using fresh insight include:
Tap into wider cultural trends: Heinz's Silence the Rumble campaign taps into a broader societal need to tackle the problem of children going hungry to school. Half a million Heinz Beanz breakfasts have reached over 100,000 children.
Explore 'passion points': immerse the team in your consumer's passion points: pastimes they love doing. Then, look for a 'sweetspot' of insight that combines a passion point, your brand idea and the product category as Nature Valley did with their Visit Nature campaign we posted on here.
The key role of brand strategy is confirmed by other important area for improvement being a tighter link to long-term strategy. Brand positioning and a clear brand & business ambition (78%) are also important strategic inputs, although the need for improvement here is relatively lower.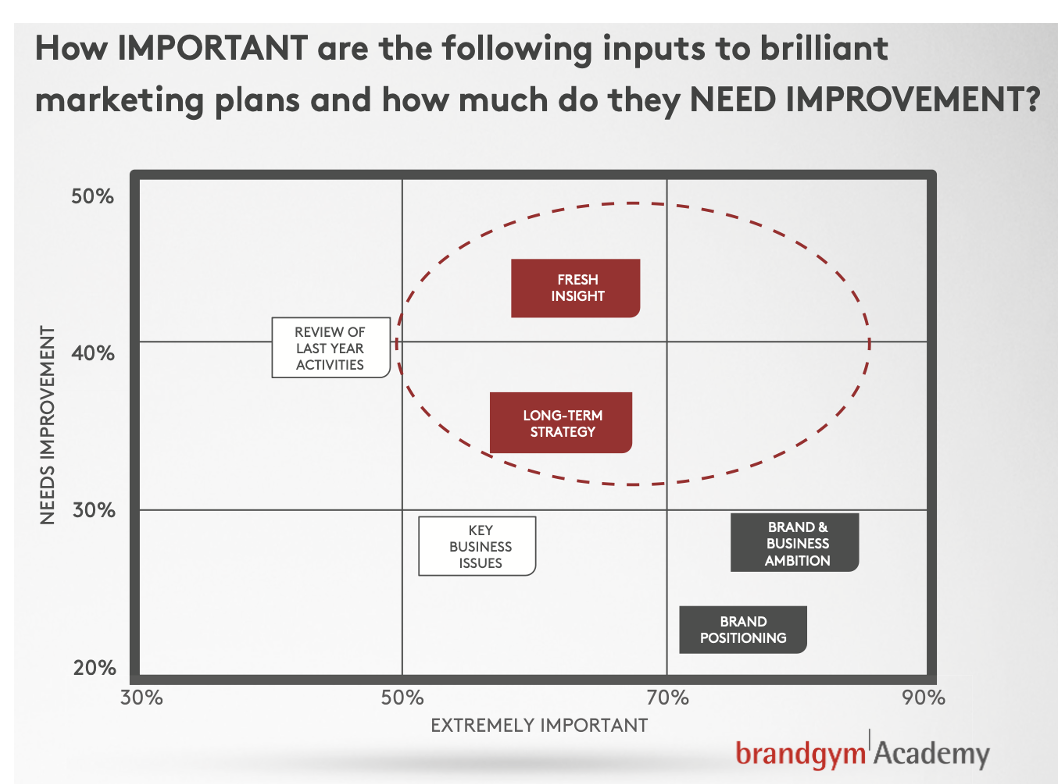 Recommendation 3: Create big brand activation ideas
In terms of process, creating big, distinctive brand activation campaigns is extremely important and in need of improvement for annual marketing planning.
Best of all are replicable and scaleable activation campaigns that can run for multiple years such as WD-40 company's global FIX-IT CHALLENGE campaign. This avoids the need to start from scratch each year's marketing planning. And with consistent use over time these campaigns can become distinctive brand properties that help build valuable 'memory structure'.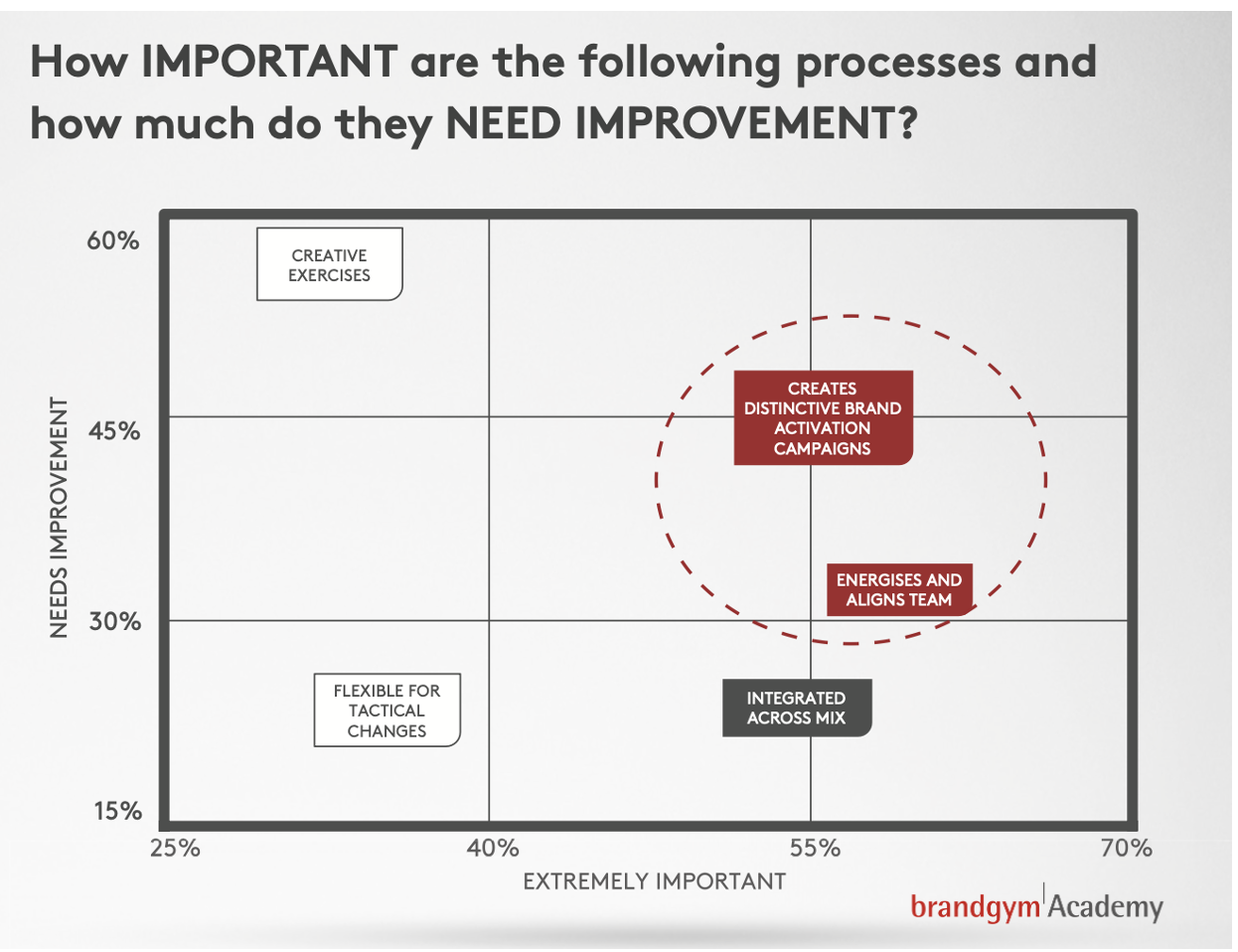 Solution: Turbo Brand Planning
Turbo Brand Planning is an approach that addresses the key needs highlighted in the research. We have used it to help teams co-create 100+ turbo charged annual brand plans, building distinctive activation properties and energizing participants:
The output of this approach is an annual 'brand chapter plan' (see example below for Carling Black Label) that drives the business whilst also building the brand:
Brand idea: used to guide all marketing activities
Chapters: big brand campaigns, amplified across the mix
Distinctive brand properties: create consistency across chapters and build 'distinctive memory structure'
In conclusion, annual marketing planning remains important even in a world of alway-on, digital marketing. However, it needs improvement to better balance strategic brand building and performance/tactical activity, using fresh insight as fuel to inspire more relevant and engaging activation ideas, especially big, distinctive campaigns that can be scaled and replicated over time.
We offer a short, on-demand course TURBO MARKETING on our brandgym Academy platform here, fully refunded if you go on to take the full Mastering Brand Growth program that explores a comprehensive, practical 8-step approach to brand-led growth.