Vilebrequin celebrates 50 years of distinctiveness
This week, I read an article in Wallpaper about swimwear brand Vilebrequin celebrating its 50th anniversary with an exclusive collection of swim trunks (1). In a nice touch, each trunk is inspired by one year from 1971 to 2021. For example, the 1990s are inspired by "the groove of 1990s California". 
The article got me thinking about how Vilebrequin has driven distinctiveness through the whole brand to still be going strong after half a century. The brand's continued success is all the more impressive given the launch of several other high-end swim wear brands such as Orlebar Brown and Frescobol Carioca.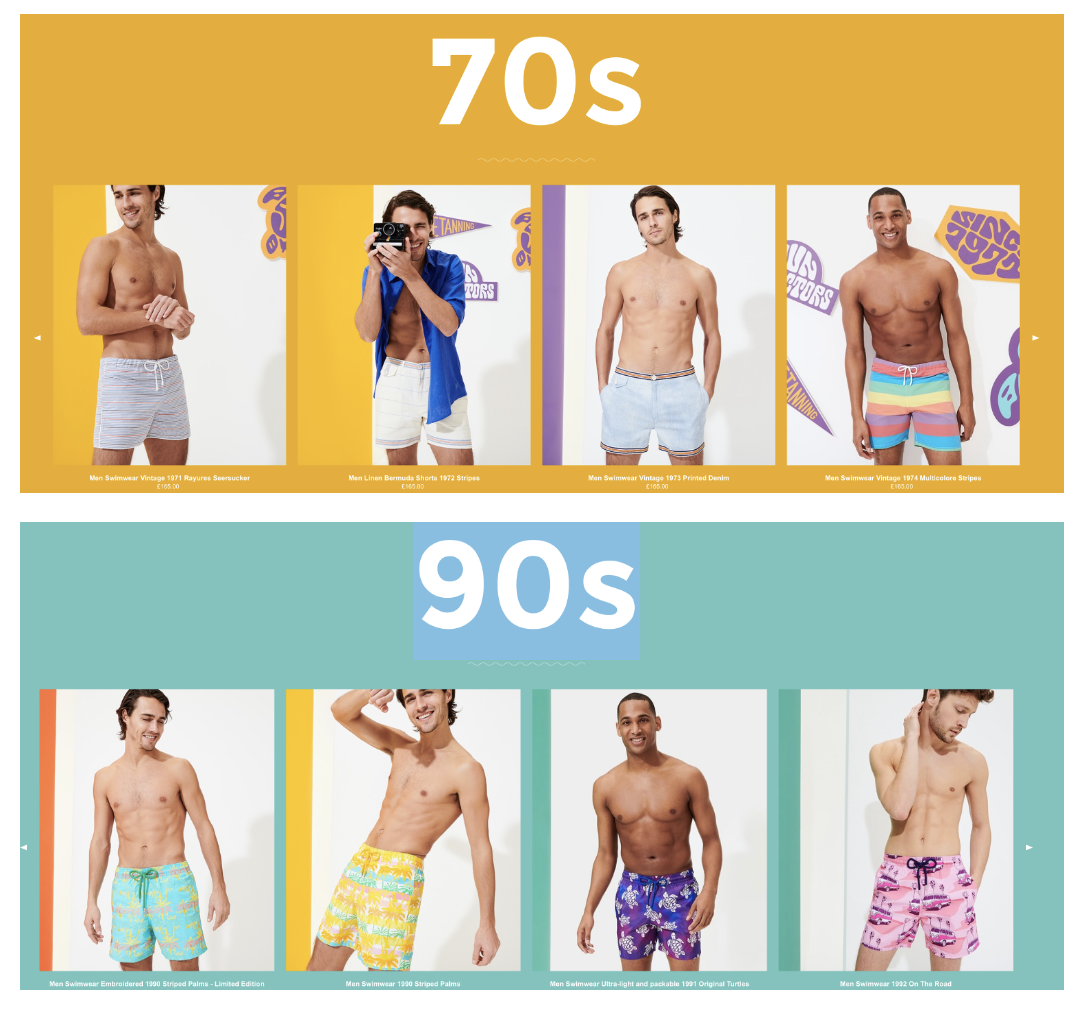 1.Distinctive PRODUCT
The foundation of the Vilebrequin brand is a high performing product. The swim shorts are stylish, elegant and comfortable. And a lot of care goes into making the product. This includes several steps involving hand finishing, as you can read about on the brand's website (below). The product has lots of distinctive little product details, such as stainless steel, branded tips on the end of the drawstrings, the distinctive logo on the back of the waistband and eyelets on the back to allow water to drain out.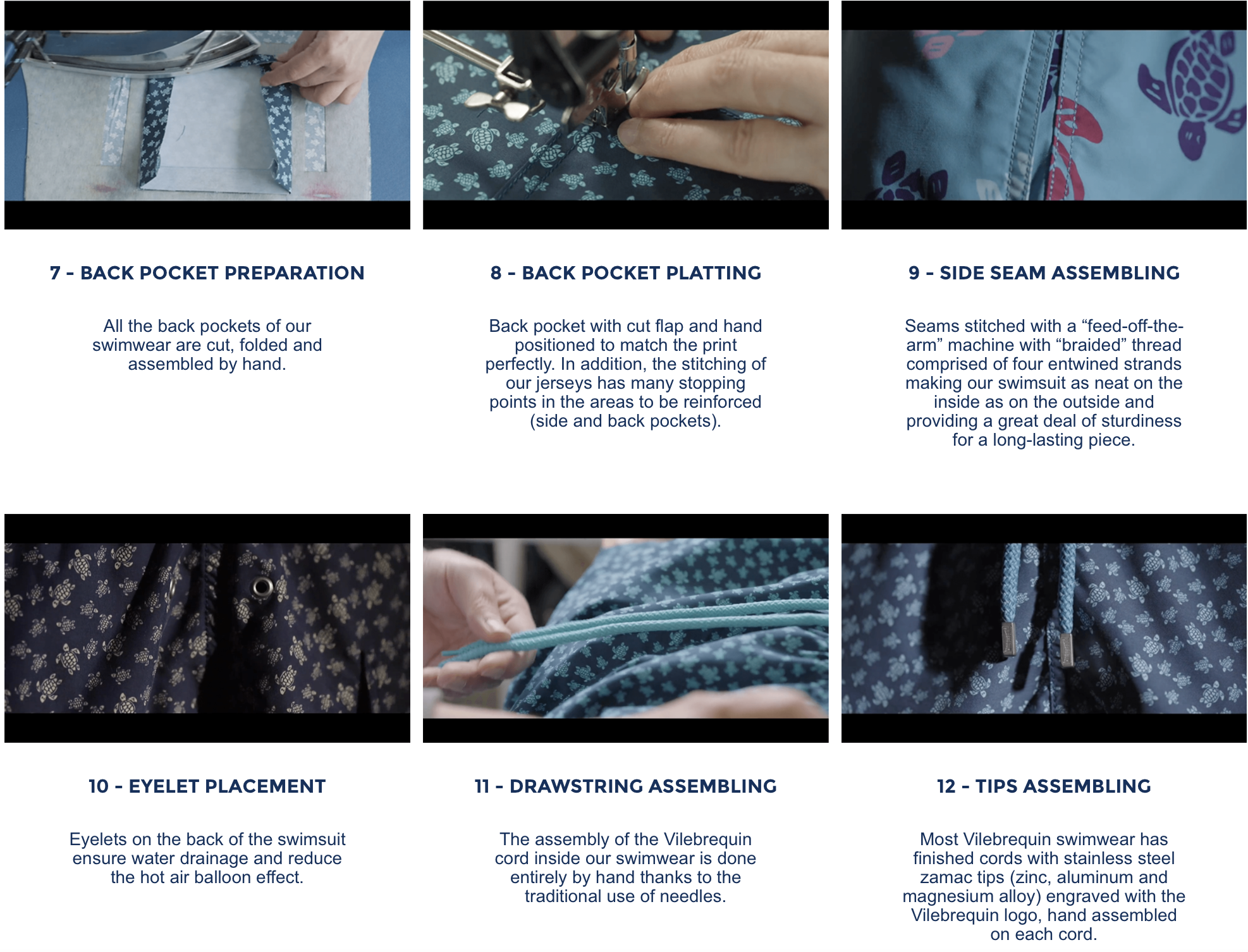 2.Distinctive EMOTIONS
Vilebrequin is a great example of how strong brands deliver more than just the purely functional. Yes, Vilebrequin swimwear has a good product "sausage" as we saw above. But there is also a lot of rich emotional "sizzle" in the brand. The shorts capture "the joy and freedom of the spirit of St-Tropez in the 1970s," as the brand says on their website (2). "We resonate as a brand of pleasure and good times."
So, pulling on your Vilebrequin trunks is not just about looking good, its about the feeling the product triggers. "Our shorts carry memories. Good memories," explains Vilebrequin's CEO Roland Herlory (1). "You glance at a pair of ten-year-old shorts in your drawer and you remember your holidays."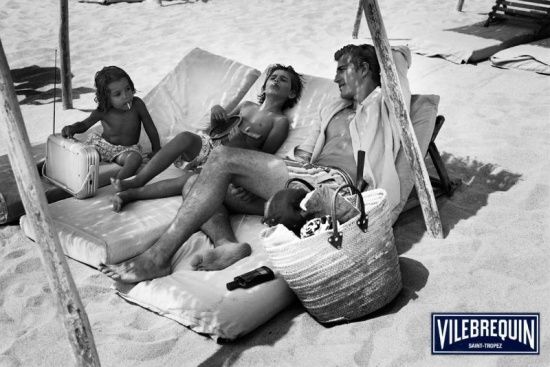 3.Distinctive HISTORY
Importantly, the distinctive emotional benefits described above are built on brand truth. Fred and Yvette Prysquel founded the brand in Saint-Tropez in 1971. The spiral staircase in the first store reminded Fred of the shape of a 'vilebrequin' (French for 'crankshaft'), giving him the idea for the name! These distinctive roots give the brand authenticity. 
The brand keeps the mythology around being born in St Stropez alive. For example, on the website it offers "a sand-picked edit of the beaches, bars, eateries, boutiques and sights not to miss out on".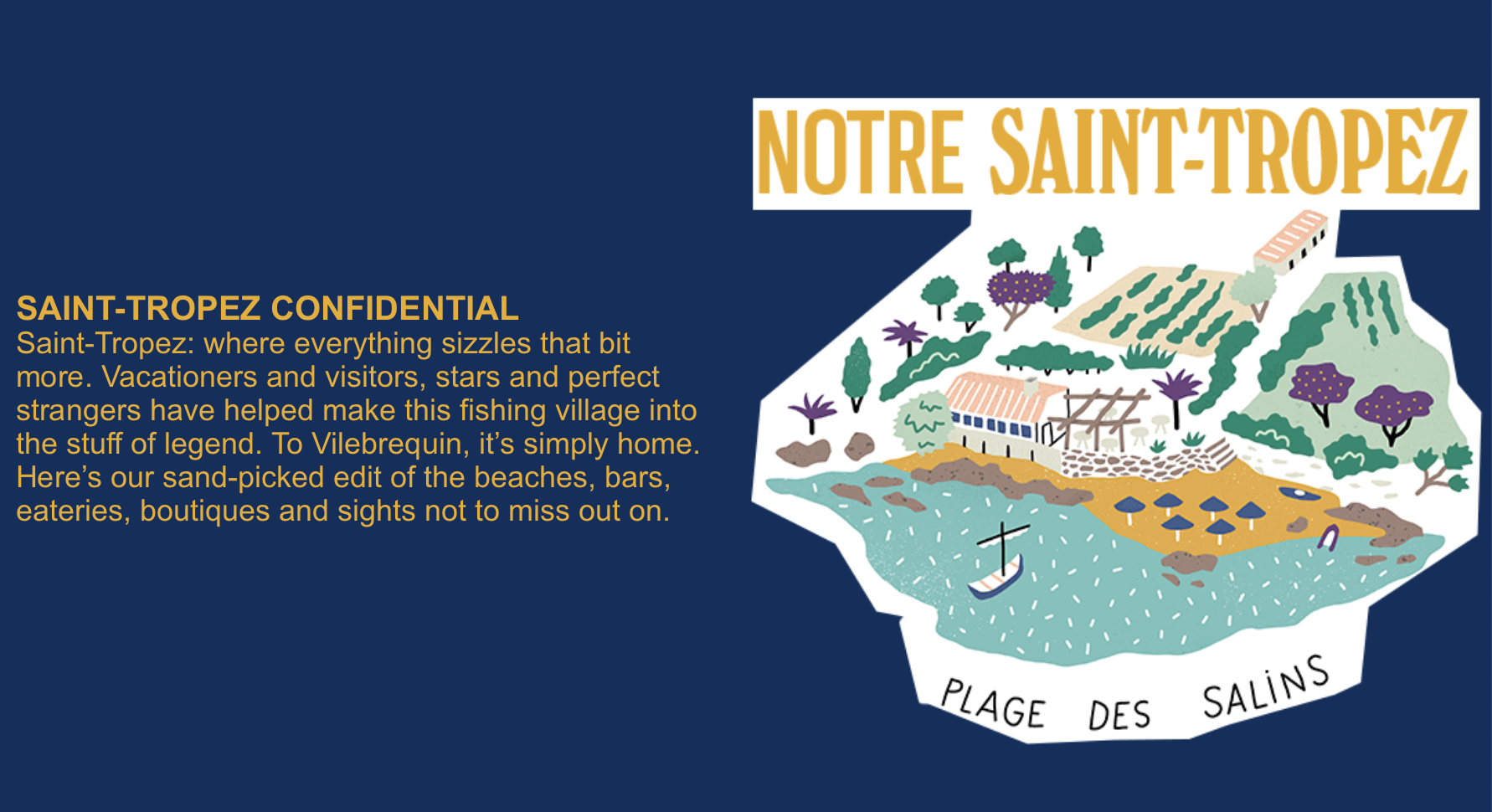 4.Distinctive PRICING
The combination of sausage and sizzle working together, under-pinned by the brand's authentic heritage, allows the brand to charge a premium price. Trunks typically cost £165 to £195 but go much higher for special edition products as I describe below! This premium pricing reinforces the image of elegance and refinement.
5.Distinctive BRAND PROPERTIES
The distinctive logo, now used on a blue background, is still going strong after half a century (see below). This must make it one of the most long standing brand assets in use today.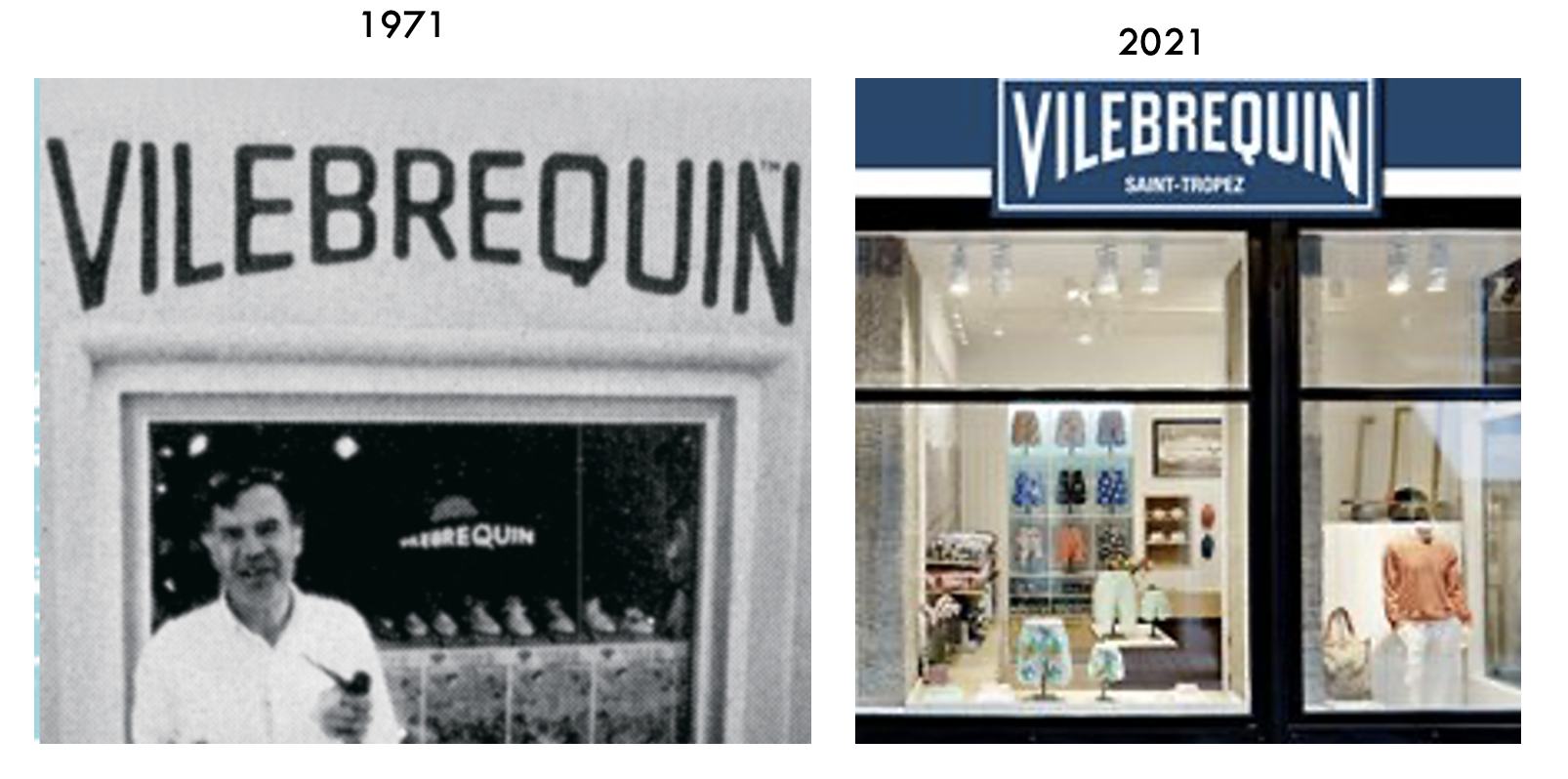 The sea turtle visual is a second powerful property for the brand and has been used for over 20 years. This symbol helps drive recognition but is another way of triggering positive emotions linked to the beach and sea. The many ways the sea turtle has been used is a good example of 'fresh consistency'. For example, at the moment there is a limited edition Mistral range of swim shorts with embroidered turtles. Each swimsuit is produced has a limited run of no more than 299 individual pieces. These sell for an even more premium price of £450!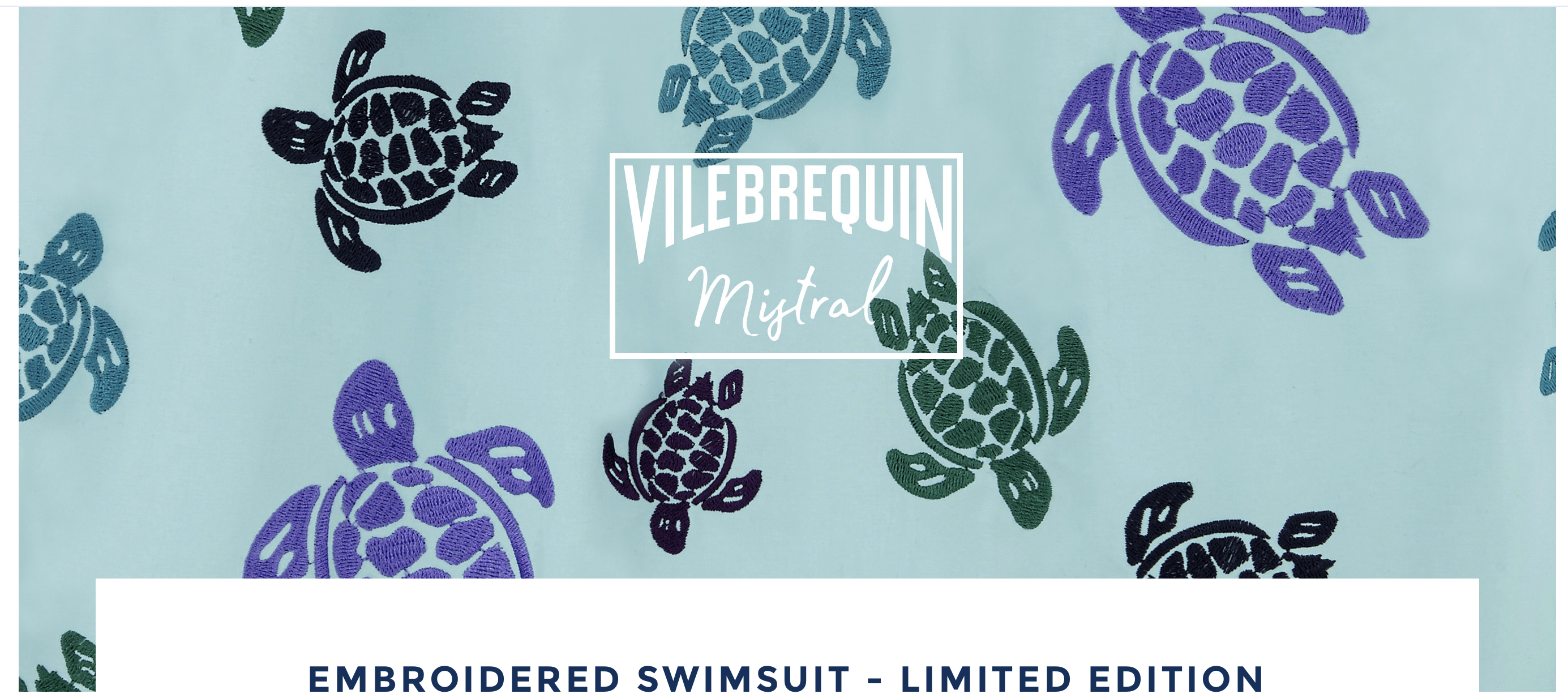 The 'Father and Son' concept is another distinctive brand property, one the brand has been using since the 90s. This is a simple highly impactful product concept: matching designs for dad and son. This drives incremental sales. For example, a family member offering a pair of swim shorts as a Father's Day gift might buy the matching design for the son. It also creates great stand-out for the brand on the beach.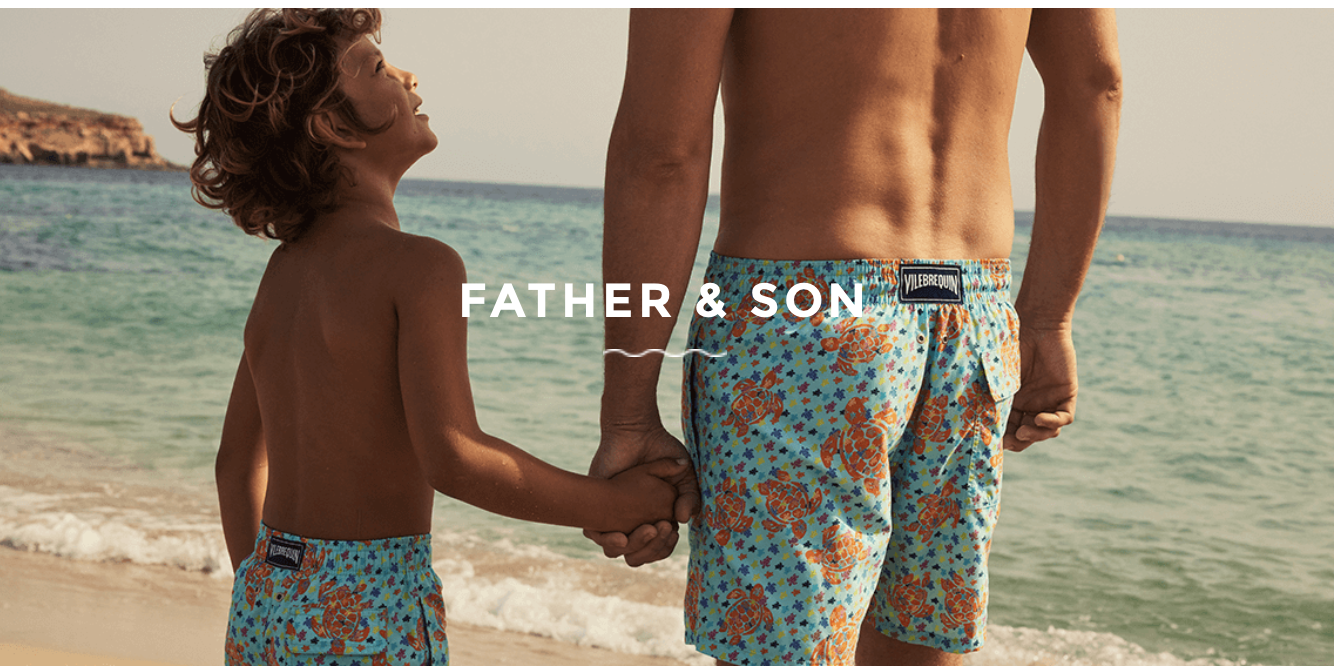 6.Distinctive take on PEOPLE & PLANET
Vilebrequin has used the 'brand-led' approach we recommend, to play a distinctive sustainability role.
First, the brand shares the approach of Patagonia and now Levis in promoting the benefits of well made clothing that lasts for longer. "Luxury is about a level of quality, which means durability. If you buy something of good quality, you keep it," CEO Roland Heroy says. Vilebrequin goes a step further by also offering a mending service. "A second, third or fourth life is given to decades-old swim shorts, as inner briefs, lost drawstrings and stainless steel tips are replaced after years of sun, sea and frolic," explains the Wallpaper article (1).
Vilebrequin also has multiple programs focused on helping the ocean, with a clear link with the brand's positioning:
Recycling ocean garbage: 50% of the brand's collections use materials made from garbage and nets collected in the oceans by fishermen. CEO Herlory's aim is to get this to 80% by 2024
Sea turtle protection: partnering since 2016 with non-profit organization Te mana o te moana to protect the future of sea turtles, raising $75,000 in charitable donations so far
Marine pollution: creation of an exclusive trunk in partnership with Plastic Odyssey, a laboratory vessel embarking on a three-year expedition to promote the need to combat marine pollution. 30 euros from each pair of sustainable swim shorts (below) funds the non-profit's future projects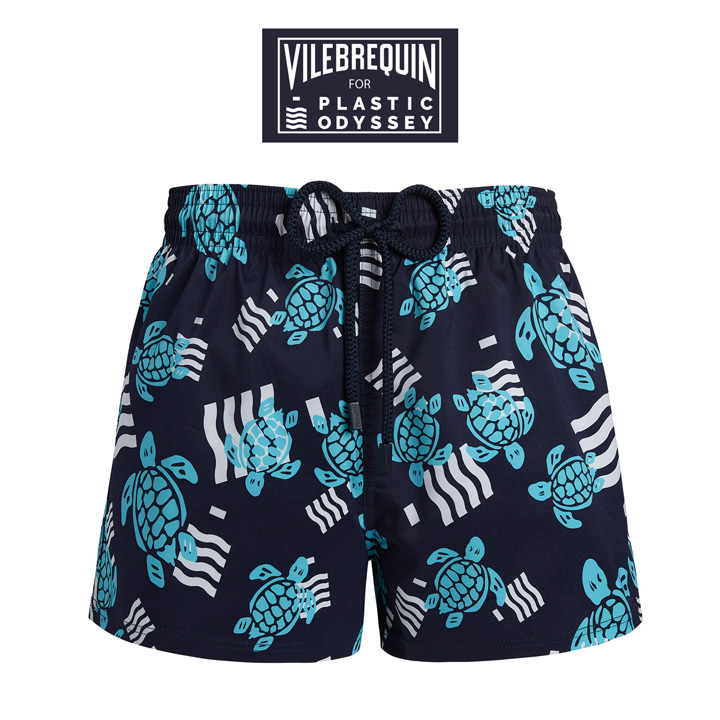 In conclusion, Vilebrequin show the power of driving distinctiveness through every bit of your brand, to support a premium price and stay healthy and vibrant. Not just for years but for decades!