Share of Search: A New Way to Predict Market Share
Share of search on Google could be a cost effective and timely way of measuring brand health, according to a presentation by Les Binet, Adam&eveDDB's Head of Effectiveness, at Effworks 2020 (1). Les shared results from new research showing how share of online search is a predictor of market share. The research looked at three categories: new cars, home energy (e.g. gas and electricity) and mobile phones.
In this post we look at headlines from the research and what they might mean for your brand equity tracking.
1.Share of search: a 'leading' indicator of market share
The first key finding is that share of search ((number of searches for you brand)/(total searches for all brands in your category)). is a 'leading indicator' of market share. In other words, changes happening to share of search now will be reflected in future changes in market share. This is shown in the example below for LG mobile phones. Search share rises initially with market share growing later, followed by a period of declining search share predicting a decline of market share.
The 'lag' between changes in share of search and market share depends on the category. Energy has the shortest lag of c. 3 months, reflecting the low involvement of the category and short term decision making. The car market has the longest lag of c. 12 months, reflecting a big purchase decision that takes place over a long period. Mobile phones are in between, with a lag of up to 6 months.
Action point: consider starting to track search share as a key brand health measure. Could it even be an alternative to expensive and time-consuming conventional brand health research?
2.Share of voice drives share of search
The second finding is that advertising share of voice is a key driver of share of search: see example below from the car market showing a correlation. This is a key point, as it shows the role that advertising including TV plays in driving performance online: digital marketing works effectively with offline marketing, rather than replacing it.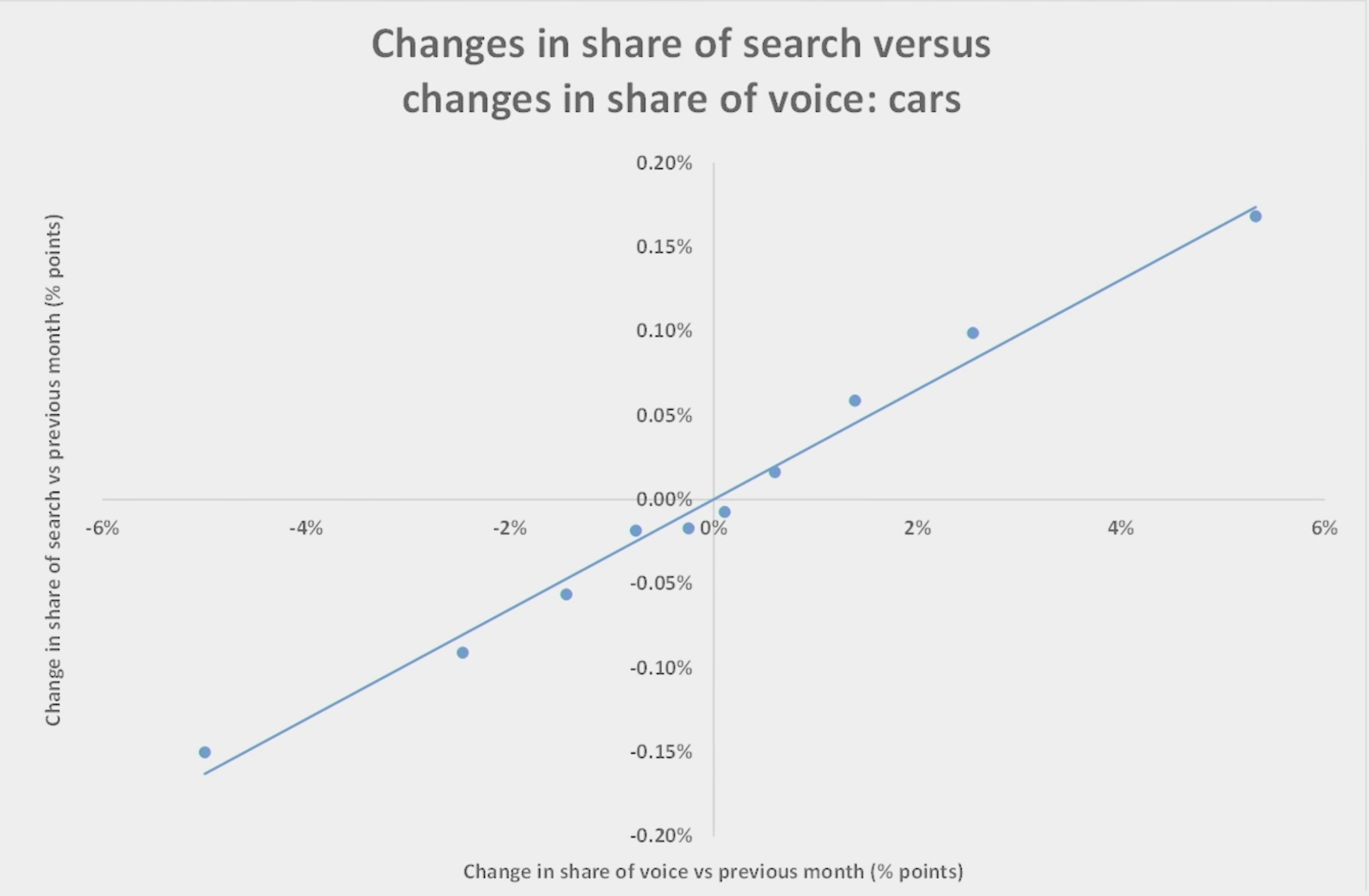 The marketing spend of Direct to Consumer (D2C) brands shows how they clearly share Les' views that TV advertising playing an important role in driving search. A selection of 125 D2C companies increased TV spending by 300% between 2015 and 2018 to $3.8 billion, according to the Video Advertising Bureau (2).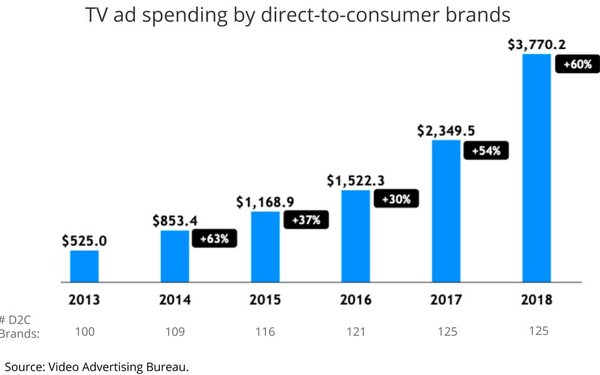 Action point: protect where possible your investment in advertising to maintain or increase your share of voice, in order to drive share of search
3.'Base level' search share shows brand power 
The research also looked the 'base' level of share of search, without the effect of advertising. Les suggests this is a good indicator of the underlying power of a brand, which can be built on, or diminished, by investment in advertising. The example below for mobile phones shows the underlying strength of the Apple brand, which has more than double the base share versus Samsung.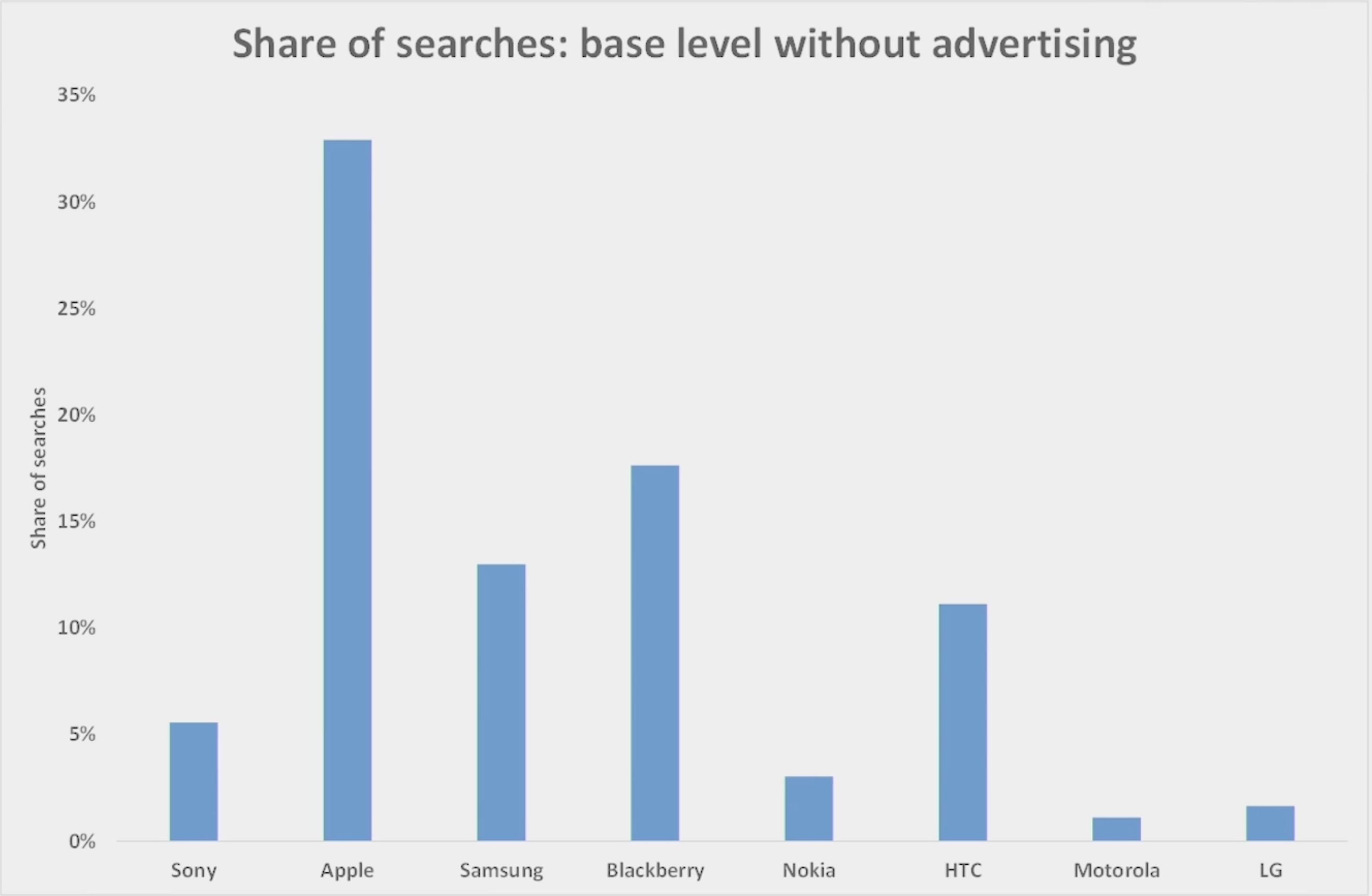 Action point: monitor your base level of share of search to track your brand power over time
4.Advertising's long and short term effects (again)
Advertising has both a short term sales driving effect and a longer term brand building one, as shown in previous research by Les Binet and Peter Field that we posted on here. And the new study shows that advertising also has a short and longer lasting effect on share of search, in all three categories. The example below shows the impact of bursts of advertising with a 10% share of voice. You can see both a short term spike a longer term effect. Importantly, the spikes get bigger over time, showing the cumulative benefit of investing in advertising.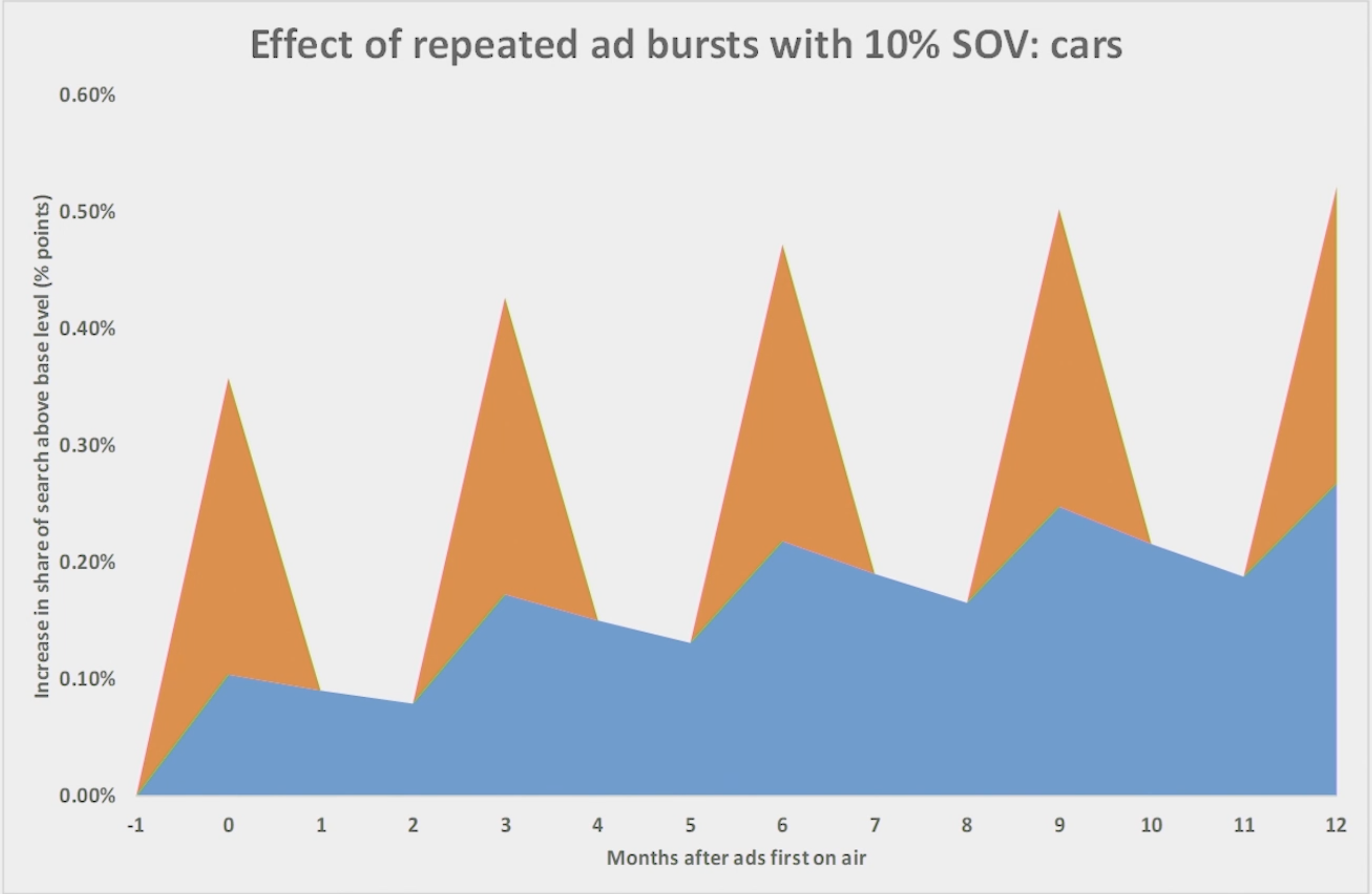 Action point: use this new research as additional evidence to support the importance of investment in long term brand building, not just short term tactical marketing.
In conclusion, this new research shows how share of search data can be a rich and cost effective source of insight into brand health, by tapping into what has been described as "the world's biggest database of human intentions". 
We explore more forms of insight in depth on our flagship brandgym Mastering Brand Growth program. If you'd like more info on the program, simply pop your name and email in the form below 
Sources:
2.https://www.mediapost.com/publications/article/336818/d2c-advertisers-see-sharply-higher-tv-ad-spending.html