Putting product at the heart of purpose: the Tango brand
The Tango brand of soft drink is going back to the product roots that made it famous, according to an article in Marketing Week I read this week (1). Tango had previously fallen into the trap of ditching its distinctive assets and disappeared up the "brand ladder" in search of emotional appeal. In this post we look at how the leadership team is putting product back at the heart of the brand's positioning. 
1. From fame to decline
Back in the 1990's Tango outsold Fanta by a whopping two to one. The brand had clear product proposition based on "the hit of the real fruit". Communication brilliantly combined product "sausage" and "emotional sizzle", with the memorable slogan "You know when you've been Tango'd". An iconic ad with an orange man slapping a Tango drinker literally visualised the hit of the fruit (see below). It was a perfect example of telling a product story in an entertaining way. Unfortunately, a series of questionable line extensions and positioning changes took Tango down in a tailspin. By the late 2000s, Fanta's sales of c.£110million were four times Tango's, as I posted on here.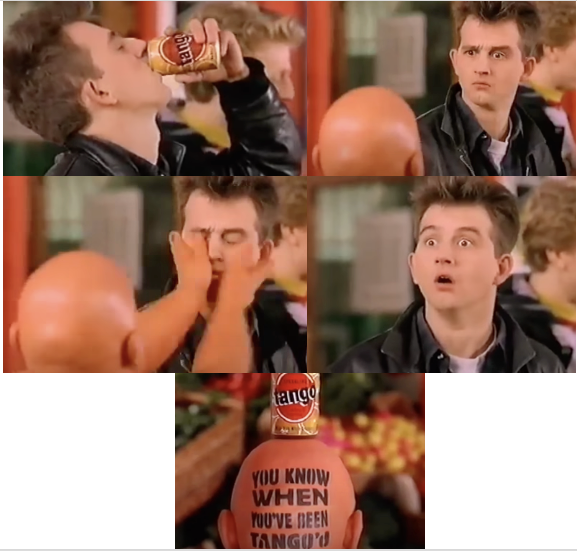 2. Failing to refresh distinctive brand assets
Tango started re-investing in the late 2010s with a brand re-launched. However, the distinctive brand positioning and slogan were not re-visited and refreshed. Instead, the new brand purpose centred on the comedic aspect of the brand: Tango exists to save the world from serious.  In doing so, the brand lost touch with the core product, "laddering" up to focus only on emotion, a problem I posted on here.
The resulting communication portrayed a brand character called Tanguru (see below) bursting into uncomfortable situations, offering  young Tango drinkers advice on how  to 'style out' their situation. Each ad ended with a new tagline: "Sticky situation? Time to Tango". For example, one film showed a Tango drinker accidentally sending a 'sext' meant for her boyfriend to her dad, asking for "a quicky". Tanguru  helps her convince her dad it was a typo and she was actually after an aubergine quiche (2).
"The product and the intense, bold taste had kind of been forgotten," commented Harriet Dyson, Britvic marketing controller for fruit-flavoured carbonates in the Marketing Week article (1). Another potential issue with this campaign was focusing too tightly on the core target and risking reduced reach. The tone might have appealed to younger daughters or sons, but less so to their older dads like me! Snickers' successful "You're not you when you're hungry" campaign showed how a better route can be to build broad fame by being loved by your core target and liked by a wider consumption target, as I posted on here.
3. REMEMBERING what made Tango famous
Fast forward to 2023 and the brand's leadership team has been "putting the taste and the product back at the heart of everything it does," according to Harriet. "The products and taste are what really set it apart from competitors".
A new brand purpose was defined to ensure the brand and its agencies really target this USP of taste: Tango exists to invigorate with intense, bold taste. Being rooted in the product like this was a key recommendation in our research paper on brand purpose here. 
The leadership team also decided to refresh the brand's distinctive brand assets, in particular the slogan. "Any brand would love to have a line like, 'You've been Tango'd',"  rightly observed Harriet (1). By refreshing this brand asset, the brand is tapping into memory structure that already exists with older drinkers, whilst re-using an effective execution to appear to new users.
4. REFRESHING what made Tango famous
The new communication platform named 'Dangerously Potent' seeks to bring the flavour of Tango to life in a fresh, new and interesting way. This smartly blends the functional hit of the fruit (potency) with the irreverent, anarchic side of the brand (dangerously). Here, we have product "sausage" and emotional "sizzle" working together. "The core goal will be to get Tango products into more hands through a focus on its taste, brought to life with humour," Harriet explained (1).
Brand revitalisation, however, needs more than simply repeating the past. Tango also needs to look forward to refresh the brand. 'Bust', the first campaign under the new platform by agency VCCP, cleverly taps into popular culture. It depicts the sort of police drug raid seen in TV shows or movies, only here the illegal activity is a "Tango Dark Berry lab". It features an officer who become "completely Tango'd" by tasting the illicit liquid and can't help moving and grooving (see below). The endline urges viewers to "Get Tango'd". Again, we have fresh consistency with the idea of being "Tango'd" in a fresh way. As Harriet notes, embedding the brand name into a slogan like this has the potential for the phrase to become part of everyday vocabulary.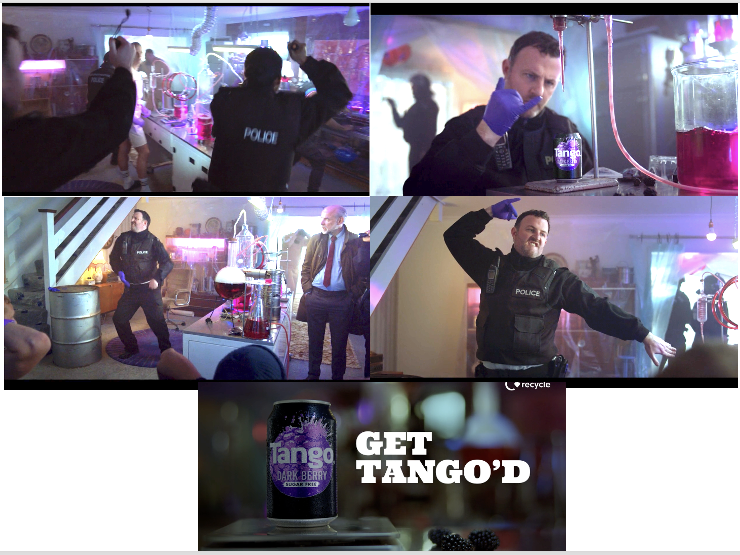 The brand is also applying the principle of "fresh consistency" to the media mix. TV is still a relevant channel, as around half of Tango's consumers are families. To reach a younger demographic, Tango is also using video-on-demand and social channels including TikTok plus a partnership with LadBible. Core range extensions are also bringing new news, with the launch of a New Editions range starting with a Berry Peachy flavour and sugar-free Tango Apple tapping into the need for healthier options for consumers.
Early signs suggest the product-centric approach is paying off. Retail sales are up 56% to £84m and Tango now the third largest fruit-flavoured carbonate brand and the fastest-growing, according to data from NielsenIQ.
In conclusion, the Tango brand relaunch is a great example of the power of fresh consistency. Rather than ditching distinctive assets in the search for something new, the team have remembered AND refreshed what made the brand famous.
Sources: