PORTFOLIO STRATEGY for GROWTH: PEARSON
How does a company with a core business of selling physical books survive and thrive in a digital world? This is the challenge Pearson has tackled over the last decade or more. Recent results show some signs of progress. 2021 sales of £3.4billion were up +7% (at constant exchange rates), after nine years of decline, during when revenues almost halved. Investors think more growth in on the horizon, with the stock up 50% this year, albeit from a low base (1).
Brand portfolio strategy has played a key role in Pearson's radical transformation. Questions the leadership team would have needed to ask include: 1. Which brands to keep? 2. Which to sell? 3. Which to buy? In this post, we look at a portfolio strategy approach to help answer these critical questions. 
1.SET A CLEAR AMBITION and PURPOSE
Wind back to 2010 and Pearson had grown through multiple acquisitions into a diversified conglomerate. As a result, time, talent and money was spread over many markets:
Business news: Financial Times group 
Consumer publishing: the original Penguin business, bought in 1970, plus Rough Guides, Dorling Kindersley and Ladybird
Education Textbooks: several companies publishing textbooks for school, colleges and universities
Education assessment: qualifications providers including Edexcel in the UK and a series of other testing and assessment businesses
This broad array of businesses was reflected in a broad corporate brand purpose: To make an impact on people's lives and on society through education and information (2). The market definition of "education and information" in particular was wide, to capture everything from guide books to financial news to exam preparation.
Around the beginning of the 2010s, the Pearson leadership made a strategic choice to focus on the growing market for learning. This was reflected in a sharper corporate brand ambition and purpose (2):
Ambition: To be world's learning company
Purpose: To help people progress through access to better learning
The focus was now clearly on learning as a way of making progress in life. Pearson stuck to this strategic direction through the 2010s and up to today. The wording of the purpose has been tweaked but the sentiment is the same: To enable everyone to realise the life they imagine through learning. The product proposition also reflects the ideas of learning and progress: Vibrant and enriching learning experiences designed for real-life impact. 
2.RE-DEFINE THE MARKET
A key step in developing the right portfolio strategy is to define the market in terms of benefits, not products. This opens your eyes up to growth opportunities and threats. Pearson broadened their education market definition way beyond physical books to be about learning experiences. Pearson then had great vision in forecasting two important changes in the education market. 
The first change relates to life-long learning. A recent FT article on Pearson (1) talked about "The expansion of  the definition of higher education, as more employers look to upskill workforce and learners seek alternatives to expensive university education." CEO Marjorie Scardino was already talking about this 17 years ago, back in 2005. "We believe education – lifelong, from childhood through our working lives and into retirement – will be one of the great growth industries of the 21st Century," she wrote in that year's annual report (2).
The second change relates to digital transformation. Again, Pearson was ahead of the game. "There's now genuine consumer demand for high-quality digital reading (and learning) experiences,"  Scardino wrote in the 2010 annual report (2). To put this in context, the iPad was only launched in January 2010. The company was already working on digital delivery, accounting for 29% of revenue in 2010, up from 20% in 2006. This transformation continued, with 73% of revenue now coming from digital or digitally enabled products and services.
3.DIVEST BRANDS THAT DON'T FIT
Defining a future focus is merely the start of portfolio strategy. The key is to then implement a portfolio strategy action plan.
A first step is to divest businesses that no longer fit the vision. This is a difficult and often painful process; huge amounts of money and emotion have been invested in business units that need selling off.
Pearson's first move was to sell the Financial Times and its stake in The Economist Group in 2015. This made sense for Pearson and the FT/Economist, allowing a sharper focus of time, talent and money on each business. "The best way to ensure continuing success (for the FT) is to be part of a global, digital news organisation completely focused on journalism," said Pearson at the time (4).
The second bold move in 2018 was the sale of the stake in Penguin Random House, ending a 50 year association with consumer publishing "We are now taking the final step towards focusing 100% on education, through our decision to exit our stake in Penguin Random House," explained the company (5). 
The above changes were substantial, shedding businesses which accounted for c.35% of operating profit. The slimmed down business was now focused on five key growth platforms (see below), all related to learning.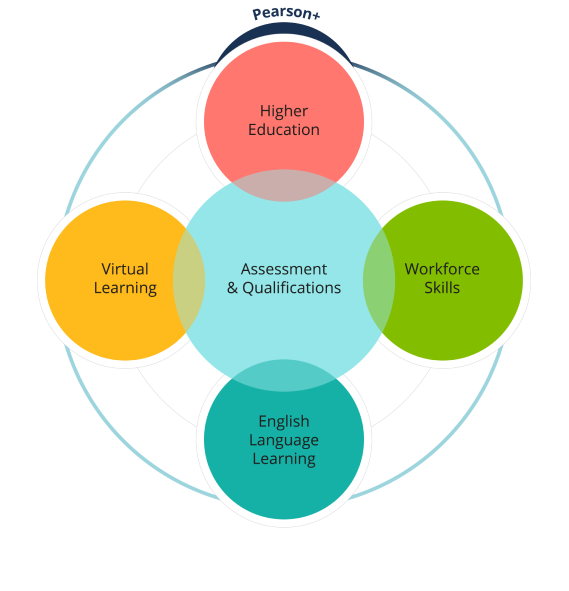 4.ACQUIRE BRANDS TO FILL GAPS
The second key part of a portfolio action plan is to acquire brands to help fill gaps in your offer. Pearson has made several acquisitions focused on digitally-enabled learning (see below). These include Credly, a service that stores and verifies work accreditation and Faethem, a company that assesses a company's skill needs.
It does look to me that there is an opportunity for some simplification of the brand portfolio. For the moment, all the new businesses brought into Pearson have retained their original brand names, with low key endorsement from Pearson. Over time, using Pearson in a more central role would simplify navigation. It would also ensure the newer, more tech-enabled services helped revitalise the core Pearson brand. This is the approach we posted on last week with TV company ITV when launching its new streaming service, ITVX.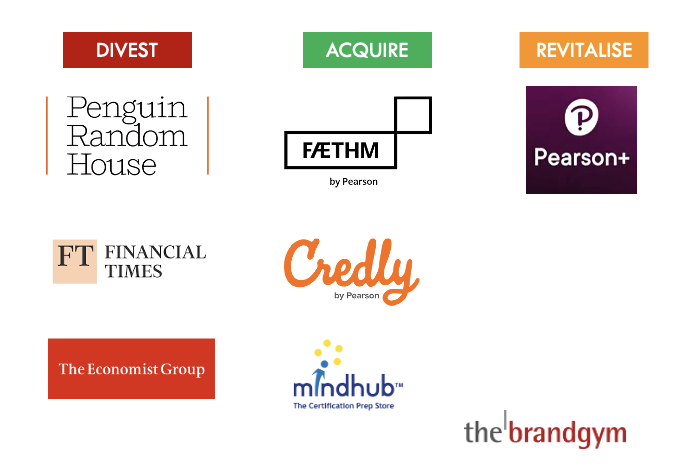 5.REVITALISE THE CORE
The final part of the portfolio action plan we'll touch on is revitalising the existing core business. Here, Pearson launched Pearson+ in 2021 to rejuvenate its historical core business in higher education. This subscription based platform allows students to access all textbooks as well as videos, for $14.99 a month. Pearson+ now has 2.75million registered users accessing 1,600+ titles. The product itself seems to be good, with an Apple Store rating of 4.8/5.0 (6).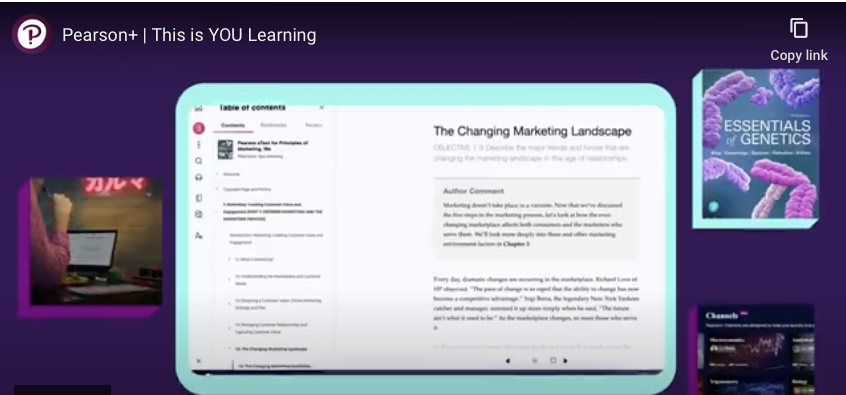 The challenge is to drive enough growth on new, digitally enabled products to offset the decline of revenue from physical textbooks. The scale of this challenge is shown by higher education, along with "businesses under strategic review", still dragging down Pearson's growth (see below).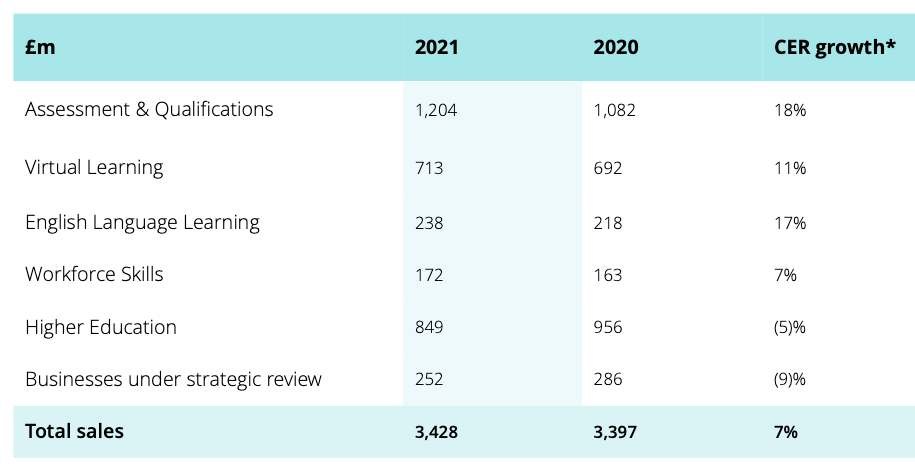 In conclusion, the Pearson story shows the key role of brand portfolio strategy in transforming a business for the digital age. The company had great foresight to predict trends related to lifelong learning and digital transformation. The difficulty, faced by many big companies, seems to have been not implementing the acton plan fast enough.This is reflected in the dramatic revenue decline up to 2020 and an eye-popping seven profit warnings during the 2010s. Time will tell if Pearson, led by CEO Andy Bird who joined in 2020, can keep the pace of change and deliver sustainable, profitable growth.
SOURCES
1. Pearson results in FT (subscription needed)
5. Penguin Random House divestment
6. 2021 Annual report inc Pearson+