Ditching Land Rover: bonkers brand portfolio strategy?
Jaguar Landrover's brand portfolio strategy hit the headlines last week. The upmarket care maker announced plans to drop the Land Rover brand, as part of its "Reimagine" strategy. The company will instead focus on Range Rover, Defender, Discovery and Jaguar as part of a "house of brands" strategy. The company name itself will also drop Landrover, changing to the anonymous JLR. The change provoked strong reactions. "The news honestly makes me want to vomit," said the presenter of TV show Wheeler Dealer, Mike Brewer. "I am totally and utterly shocked." (1)
This new strategy is quite a flip-flop. Only two years ago the company announced:"Jaguar Land Rover will reimagine the future of modern luxury by design through its two distinct, British brands" (2).
In this post we explore the radical brand portfolio strategy change.
1. RANGE ROVER: already a stand-alone brand?
Treating Range Rover as a separate, stand-alone brand is actually a minor move that makes some sense. Most owners would probably reply "Range Rover" when asked what car they bought. I know I do. The official brand architecture was always clumsy in my eyes: I doubt anyone says that they drive a "Land Rover Range Rover Velar", for example!
Range Rover is positioned as a more luxurious, refined and elegant range of sports utility vehicles (SUVs), compared to the more rugged Land Rover Defender and Discovery. The brand's marketing focuses on the Range Rover name, with little of no mention of the Land Rover slogan Above and Beyond. The Range Rover name is also prominent on the car's grille, with a small Land Rover badge.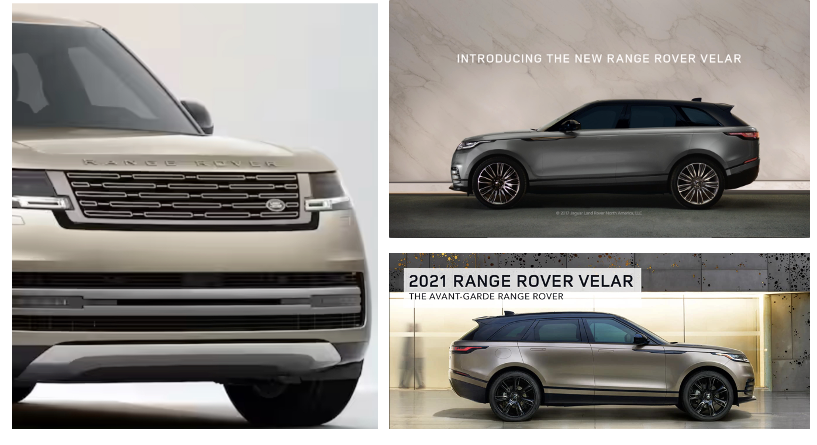 2.LAND ROVER: ditching a distinctive brand asset
The bit of the brand portfolio strategy that does seem bonkers is ditching Land Rover and investing instead in Defender and Discovery.
Land Rover has 75 years of history. Millions of pounds have been spent building the brand. Only recently, JLR waxed lyrically about it. "In a Land Rover, vehicle and driver are united by adventure. By breaking new ground, confronting new challenges and not being content with the expected, Land Rover truly helps people to go 'Above and Beyond'." (2) Very well put. And a lot of brand equity to bin.
This sustained investment in Land Rover is reflected in the marque being one of the UK's top 10 most loved car brands (see below). It enjoys 98% awareness and 62% likeability, according to Leasing.com (3).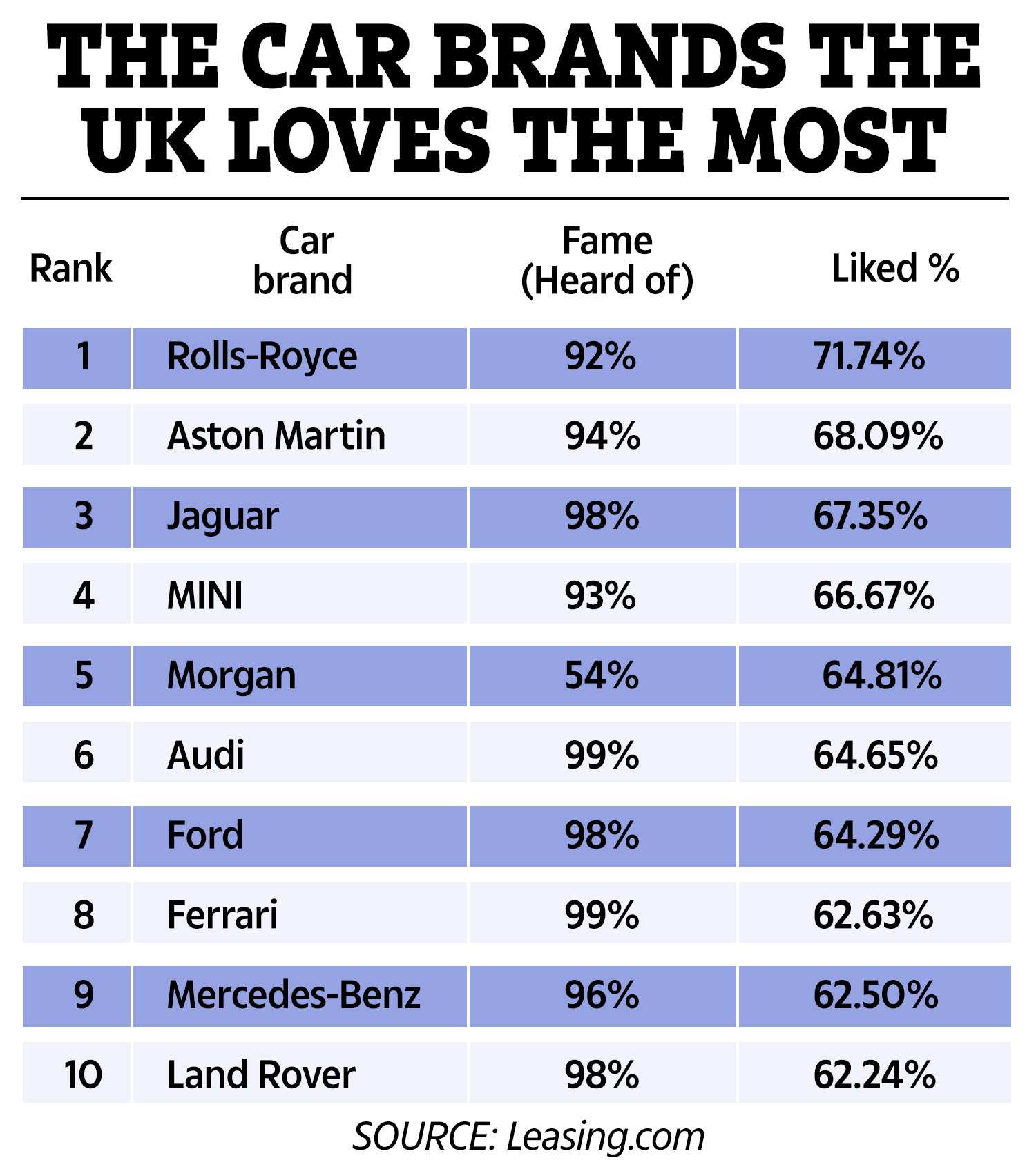 What about Defender and Freelander? Yes, the names do again feature prominently on the grilles of each car. However, in contrast to Range Rover, both models are clearly advertised as part of the Land Rover family. They represent two different expressions of the Above and Beyond brand idea. Defender is the rugged, authentic off-road workhorse. Discovery is for families who have the spirit of adventure, even if the vehicle is mainly used for school runs and shopping trips!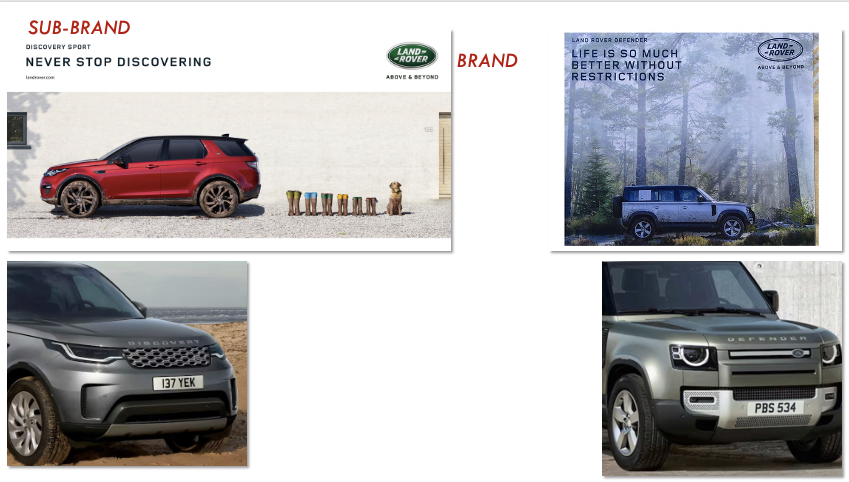 Here then, Discovery and Freelander are "sub-brands". They each have a distinctive name and personality. But they work in harmony with the Land Rover "purchase brand" to create a "composite brand": Land Rover Defender and Land Rover Discovery. Ask owners what brand of car they bought and would reply "Land Rover", I expect. This is shown by Land Rover having more than 2x the search volumes of Discovery in the UK: 110,000 vs. 49,500 per month (4).
A brand new advert for Defender below shows what the new portfolio strategy in action. To my eyes, it feels less distinctive and really misses the Land Rover branding and"Above and Beyond" idea.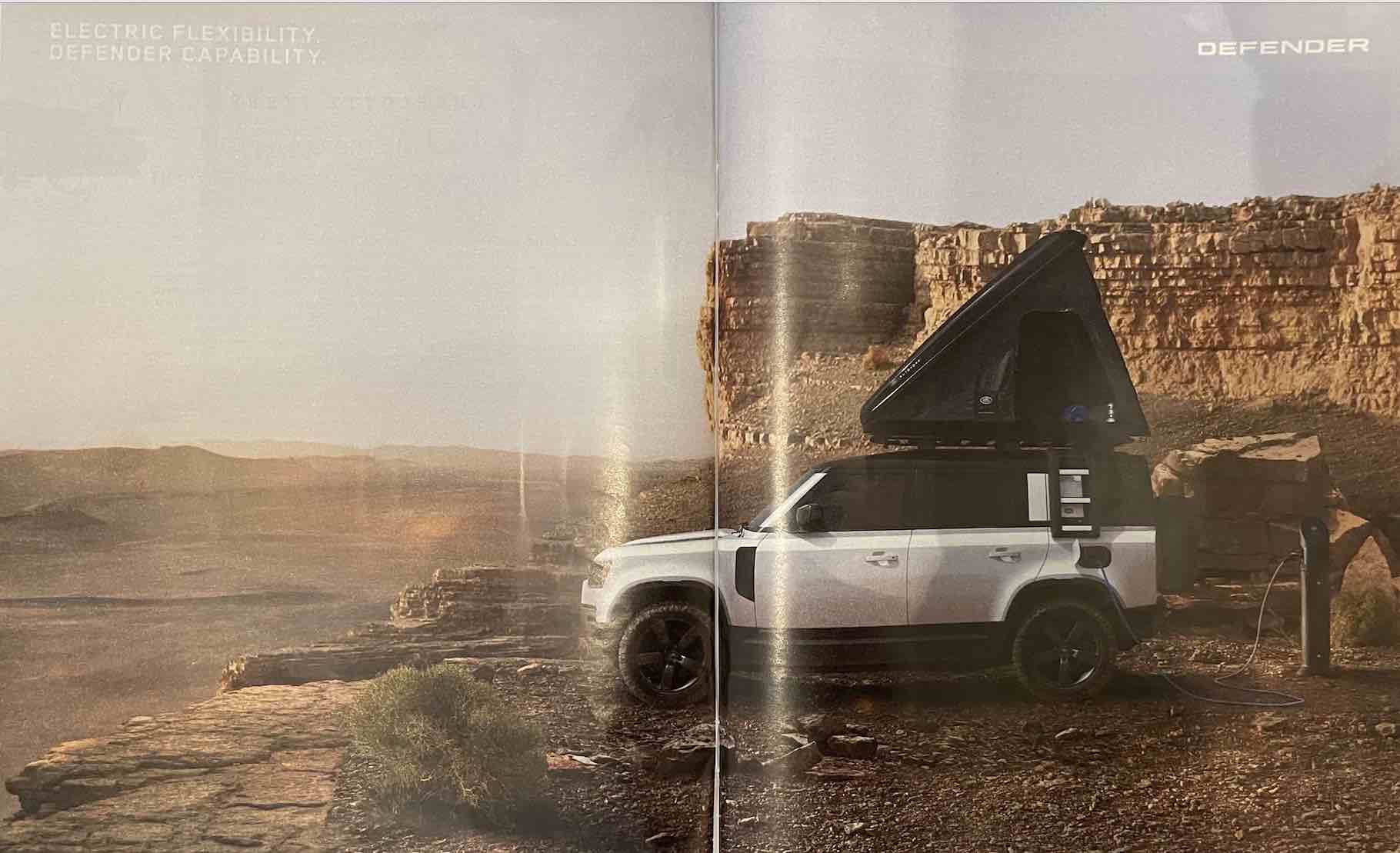 3. COST and COMPLEXITY
The new brand portfolio strategy requires investment in building four brands. This feels like too many for a company that has been struggling to turn sales around. Car volumes dropped 29% from 25,786 in 2018 to 18,320 in 2022 (5). And the company made a pre-tax loss of £412 million in the latest financial year, 2021-22 (6).
Furthermore, the cost of implementing the house of four brands at a retail level is likely to be significant. Indeed, car dealers from JLR's retail network were reported to be "flabbergasted" by the decision to ditch the Land Rover brand (7). They pointed out that only a few years ago the company invested a whacking £1billion to implement a Jaguar Landrover corporate identity across its dealer network, named "The Arch Concept" (see below).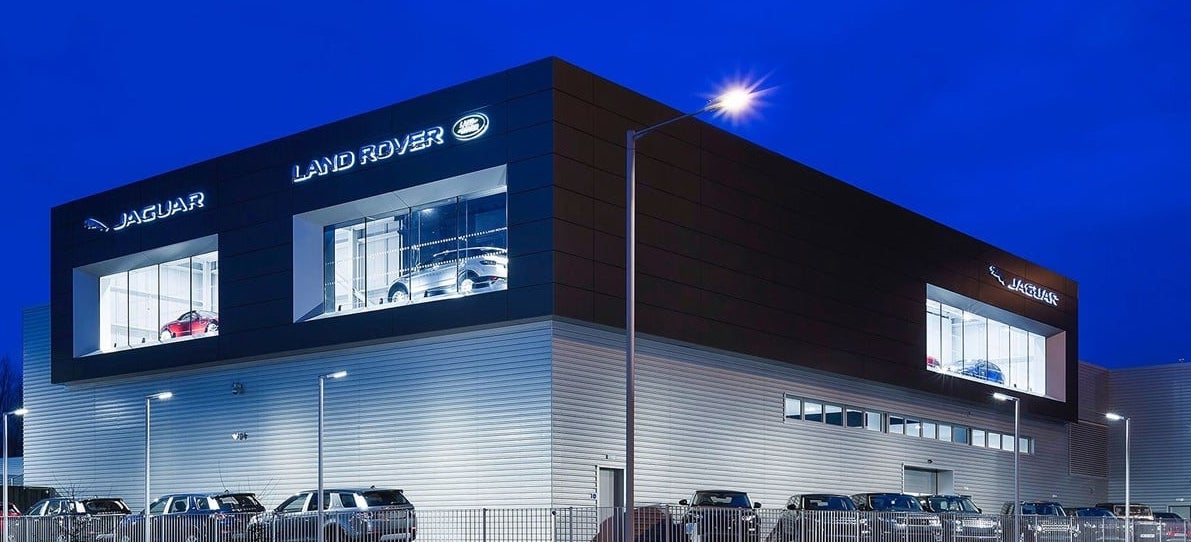 4. BRAND STRATEGY SUMMARY
To help guide teams defining brand portfolio strategy, we use a brandgym Academy framework that looks at stretch from the core on two dimensions: emotional stretch (personality, tonality, feeling: often also linked to price point) and functional stretch (attributes, competences, features).
Using this framework (below), we see that Defender and Discovery are both relatively close to the core Land Rover brand. A sub-brand approach allows enough distinctive personality for each line, whilst continuing to build the Land Rover brand. Range Rover can be managed as a brand with Land Rover endorsement, but at a lower level than in some of the marketing today. For example, there would be no use of the Land Rover Above and Beyond slogan in communication. Jaguar continues as is: a stand-alone brand with no overt endorsement from Land Rover.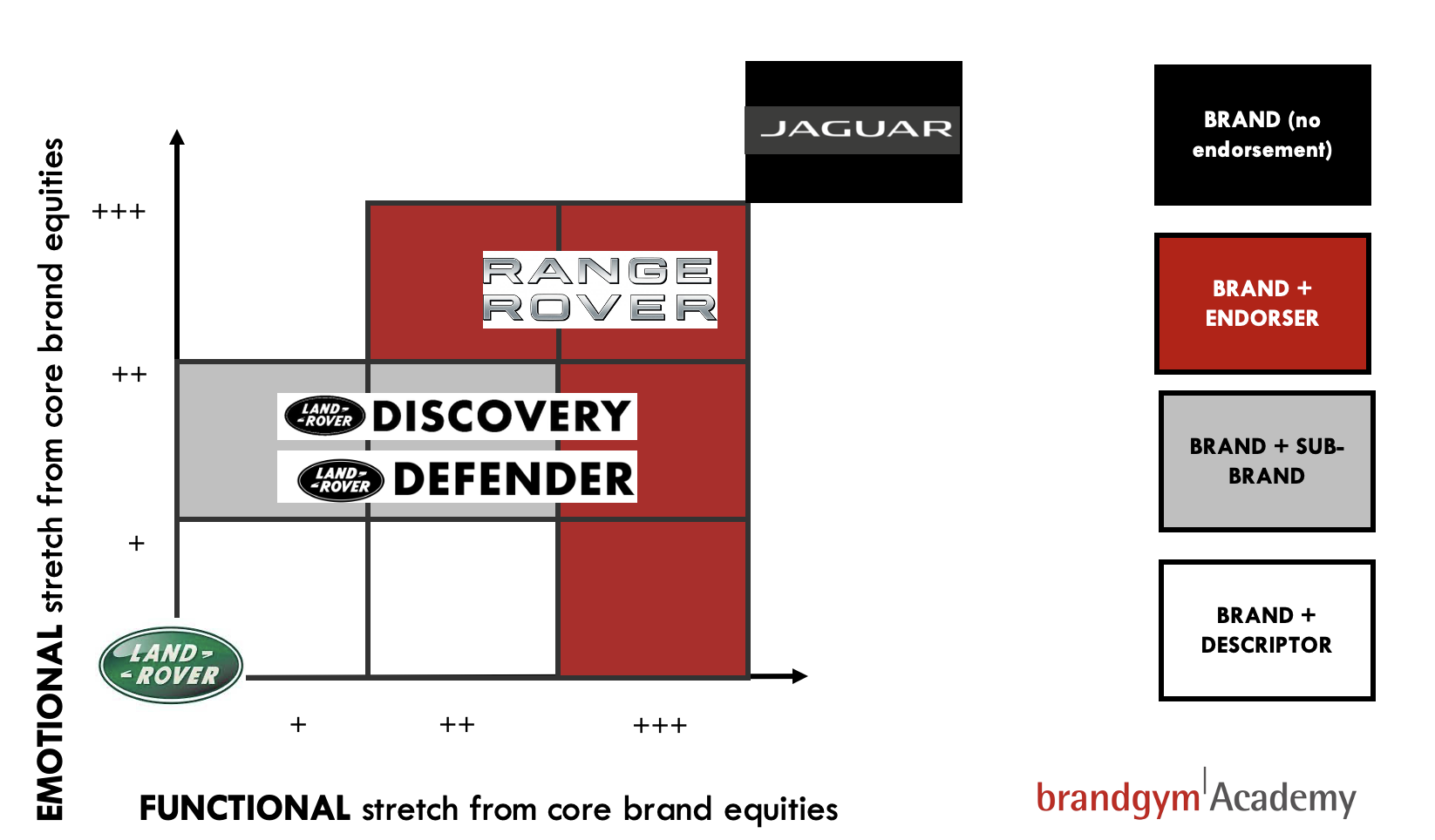 In conclusion, the decision to ditch the Land Rover brand does seem to be a bonkers brand portfolio strategy. Time will tell if the strategy if fully followed through, especially given the howls of protest from Land Rover fans. "The loss of the Land Rover brand feels like a devastating blow to one of the most recognised car marques in the world," said Ben Fogle, author of a bestseller about the car (1).
SOURCES:
(2) 2021 strategy
(5) Sales volumes