Brand extension madness: Amazon Salon?
I read with interest today about Amazon's brand extension plan for a new hair salon in Spitalfields Market, east London (1). Some of Amazon Salon's service features include:
Hair style preview: augmented reality used to give an advance view of what different colours or hair styles will look like
Beauty product browsing: "point and learn technology" using sensors next to a product shows details and videos about it on a screen above the shelf.
Scan and search: scan a QR code next to a product with your phone to bring it up on the Amazon website
Share your look: take and share pictures of your new hairstyle in a "dedicated creative area"
Entertainment on tap: Amazon Fire tablets at every styling station 
Amazon is, of course, not the first haircare product brand to also offer salon services as a brand extension. Free haircuts in Vidal Sassoon's swanky salons were one of the perks in my first job at P&G working on the Vidal Sassoon haircare brand, way back in the last century.
But Amazon's move is of particular interest given the nature of their core business. Why the hell is the world's leading online retailer bothering with a bricks and mortar hair salon?
1. Growing the core?
One suggestion is that the salon brand extension is a tool to recruit customers to Amazon's online core business. "It has the halo effect of getting salon customers to become Prime members," suggests Natalie Berg, a retail analyst (1). But surely this can't be the main reason for investing in a single hair salon (Amazon has "no current plans to open more branches"). Amazon Prime already has 15 million UK members, with c. 57% of 16-34s having access to it. Therefore, the number of incremental new Amazon Prime members created will be a drop in the online ocean.
A more likely explanation is that the salon is an insight gathering tool. Amazon will use it as an "experiential venue" to "analyse what beauty products its customers prefer" and "experiment with new technology", according to the Times (1). 
2.Getting REAL-LIFE human insight 
Back in 2016 we started posting about 're-booting' brand strategy, by blending new techniques AND the best of 'traditional' marketing methods. In terms of insight, we suggested that even in a world of data analytics there was a role for 'old fashioned' techniques such as consumer immersion and qualitative research. Observing people in real life and talking to them face-to-face can provide rich learning that's hard to get from looking at data alone.
Amazon seem to share this view. "We want this venue to bring us one step closer to customers," commented John Boumphrey, Amazon's UK country manager. And retail analyst Clive Black described the salon brand extension as "a real-life laboratory with which to explore hair products and evolving technologies in the flesh." (1)
The real-life learning can then be used to develop Amazon's online professional beauty offering of 10,000 spa and salon products. The company can also use learning on new Amazon Fire tablets and Amazon Prime content.
3.Building brand buzz
A secondary reason for the Amazon Salon brand extension is to create 'buzz' about the brand. A Google search for 'Amazon salon' returns 58,700,000 results, suggesting that news about the launch has achieved wide reach in a matter of days. And it also communicates more powerfully than conventional advertising that Amazon is an innovative, creative company, I suggest.  "It is bizarre but you have to come to expect the unexpected with Amazon," observedNatalie Berg, the retail analyst quoted earlier (1). 
Yes, the Amazon salon will not be cheap to launch and run. The expense and complexity of running a service experience store is why many previous attempts by product brands to do this have failed. For example, the Lynx/Axe brand opened and then closed a similar flagship hair salon on London's Oxford Street 21 years ago (see below). However, with a UK turnover of £13.7 billion, Amazon is better able to afford this type of marketing experiment!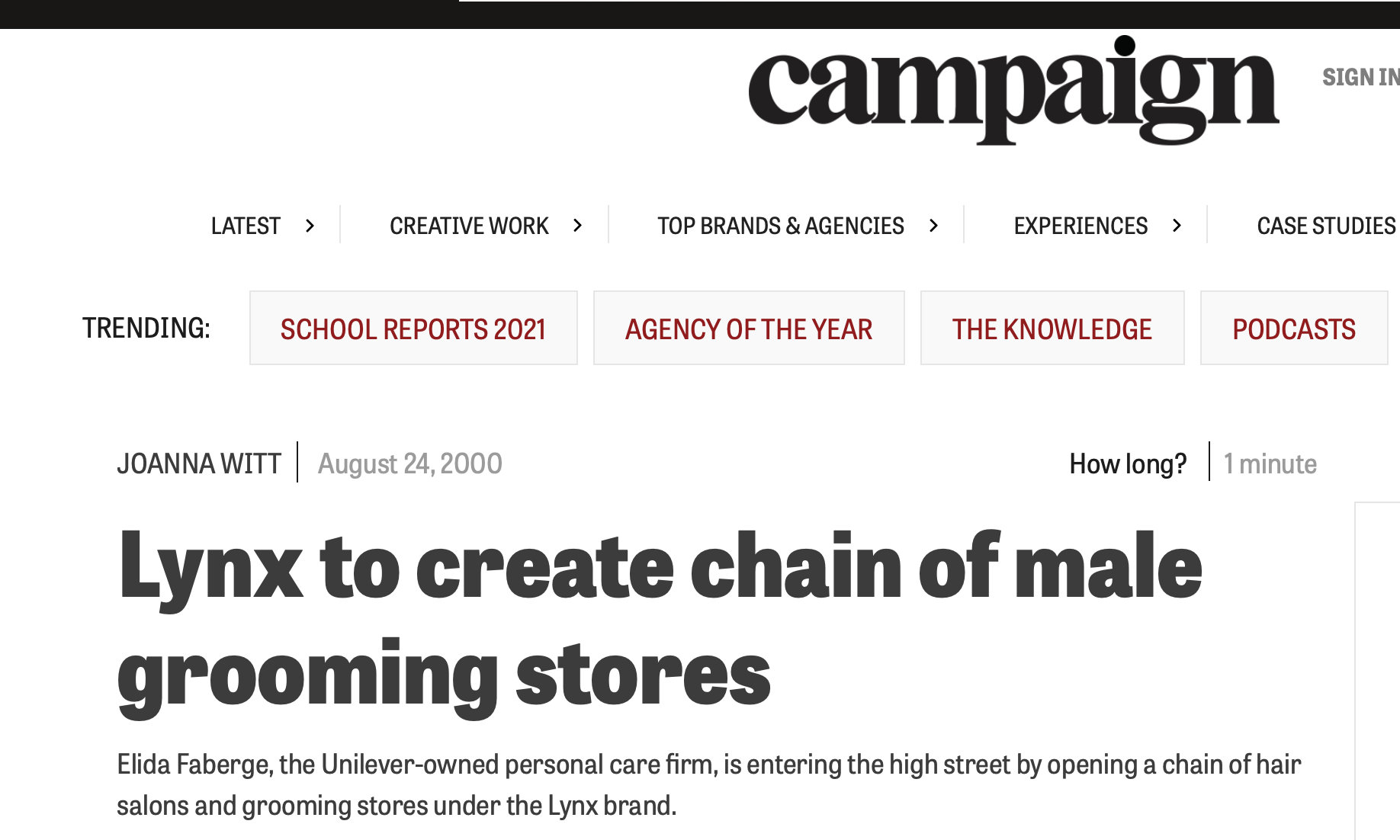 In conclusion, the Amazon Salon launch shows that even in an age of data analytics, there is still a role for real-life research to create deep and vivid insights about what people like and why.
Sources:
(1) https://www.thetimes.co.uk/article/amazon-hairdressers-deliver-a-high-tech-style-of-trim-2b6jgcd9v?shareToken=2421332cb3f881a64e35a905db7d9c6a
(2) https://tamebay.com/2019/03/uk-now-15m-amazon-prime-members.html