Leadership lessons from playing rugby and selling sausages
This week features a guest post from one of my all-time heroes from the Harlequins rugby club I've followed for the last 15 years: Olly Kohn. He shares some great lessons on leadership from his two lives: the first as a professional rugby player and the second as co-founder along with his three brothers of a brilliant sausage and bacon brand, The Jolly Hog.
I first met with Olly back in 2014. When I found out he'd started a sausage brand, I couldn't resist sending him a copy of my book, Where's the Sausage?*, offering to meet up for some free brand coaching. We had a great working session I posted on here, with a follow-up meeting a few year later that I posted on here. Note in the picture below (Olly on the left) that I am 1m92 tall: I would not liked to have tried to tackle him on the rugby pitch!
*This book smuggles the brandgym principles of brand-led growth into a fictional tale of a sausage company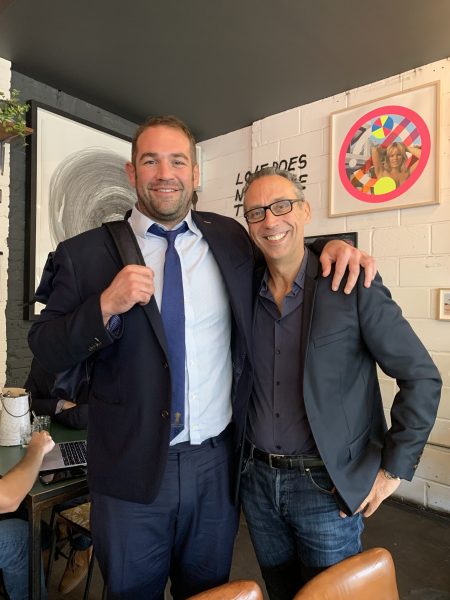 1. Find a good mentor or mentors
Having a mentor has been really important to me and is something I have valued a lot. A good mentor is not easy to find, and it can take a while to find the right fit, but once you do, it's a real asset. They can help you think about things differently, and really help you think about the bigger picture. You can get so wrapped up in the day to day of running a business, a mentor helps you take a step out and look at things from a different perspective. I've had a few along the way. Get the right mentor and it's a game changer.
2. Push out of your comfort zone
Every day that I played professional rugby felt uncomfortable to me, I had nowhere to hide if I made a mistake. You are exposed and if you were rubbish on the weekend on the pitch you were told about it by coaches, players, fans and sometimes the media. I got zero out of 5 stars in the Bristol Evening Post once. In my end of season report from the Director of rugby I could see his notes on me for the meeting. On his pad I read- Lazy, unfit, eats too much! He was probably bang on.
Rugby taught me that if actually you can push yourself out of your comfort zone and stretch yourself, you'll be stronger. Whether that's in sport or business. You don't know it at the time but you can learn good lessons when you are uncomfortable with something. You'll know how to get better for next time round.
We have had plenty of failures as a business, lots of things haven't gone our way. We've felt out of our comfort zone but pushing ourselves has help us build up the business to where it is today. Sometimes when me and my brothers Max and Josh reflect, we end up chatting and often laughing about the 'dark times'. We find comfort in laughing about bad decisions or really tough times. We are sure there will be more ahead but have built resilience along the way. Resilience has been a secret weapon for us.
3. Lead with product quality ("Never mind the sizzle, where's the sausage?!")
This comes from our chairman, who always talks about quality. His tagline is 'quality is the best business plan', which I think is great. You can put quality into every facet of what you are doing. Whether it's quality packaging, quality relationships, quality marketing, people. If you invest time into quality, you're going to set your business up for success.
To me, quality is about self-reflection. Always reviewing, getting feedback, always learning. He also has another saying which is 'and remember, don't fuck it up!'
4. Don't take shortcuts
This one is from another mentor of mine; she always says, 'there are no shortcuts in building a brand.' If you want to build a trusted, honest and well-liked brand (which is what we work towards everyday), there are no real shortcuts.
You can't pay more money, bypass certain things, you have to go through the process. You can't fast track the fundamental things – loyalty, design, NPD, the ingredients you put into a sausage. It all takes time. My wife will say I'm impatient and want to steam ahead so I do find this difficult sometimes.
Consumers aren't stupid, they can see when something isn't authentic or real. Go through the process and make sure you don't take shortcuts. Be proud of what you've done and how long it can take sometimes.
5. Do what you love
I've been really fortunate to play professional sport, to get paid to run around with my mates and do something I loved and enjoyed. I learned by doing this that the next part of my career would have to be something I loved just as much. It was always going to be in food and working for myself. Max's (Brother and Business partner) always takes the piss out of me as I came up with an internal campaign called 'Get Shit Done and Have Fun!'. Turns out that project/ campaign didn't work, and we didn't have fun but the thought was there.
Lots of people work in jobs they don't enjoy. If you have a passion, it's so important to chase it.