Brand focus: laying bare why Majestic Wines is focusing on Naked
Majestic Wine Groups's plan to ditch the Majestic Wine Warehouse brand, close some stores and migrate the whole business to the Naked Wines brand* got a cold reception from investors, with a 19% drop in share price since the announcement in late March.
In this post we look at the brand portfolio strategy challenge faced by Majestic, to think through what they are doing and why.
[* For readers who don't know the brands, the Majestic is a physical store-based wine retailer operating mainly in the UK, whereas Naked, bought by Majestic in 2015, is a pure online player with sales in the UK and also the USA]

1. Start with strategy
Decisions on which brands to keep or kill are often emotionally charged, given the time, money and effort invested in building them. This is especially true in cases like Majestic Wine. Here, the adapted child (Naked Wines) is effectively 'eating' the parent that bought it (Majestic)!
We use a simple but effective framework on brandgym projects to help teams have a structured debate about their portfolio, based on brand and business data. The framework poses two key questions, which need 'trading off' against each other:
How many brand do you NEED?: What are the key needs, occasions and consumer groups you are targeting as a company? And what brands assets do you have to meet these growth opportunities? You may find overlap, where multiple brands are targeting the same occasion or need state. Or, you may highlight underlap where you have no brand presence
How many brands can you FEED?: The ideal number of brands in the portfolio needs to be balanced against business reality. What resources are available in the business compared to the cost of supporting brands?
A portfolio strategy emerges from this trade-off, and a portfolio action plan is then created, with options including brand mergers, like the Naked/Majestic plan, new brand creation and brand stretch.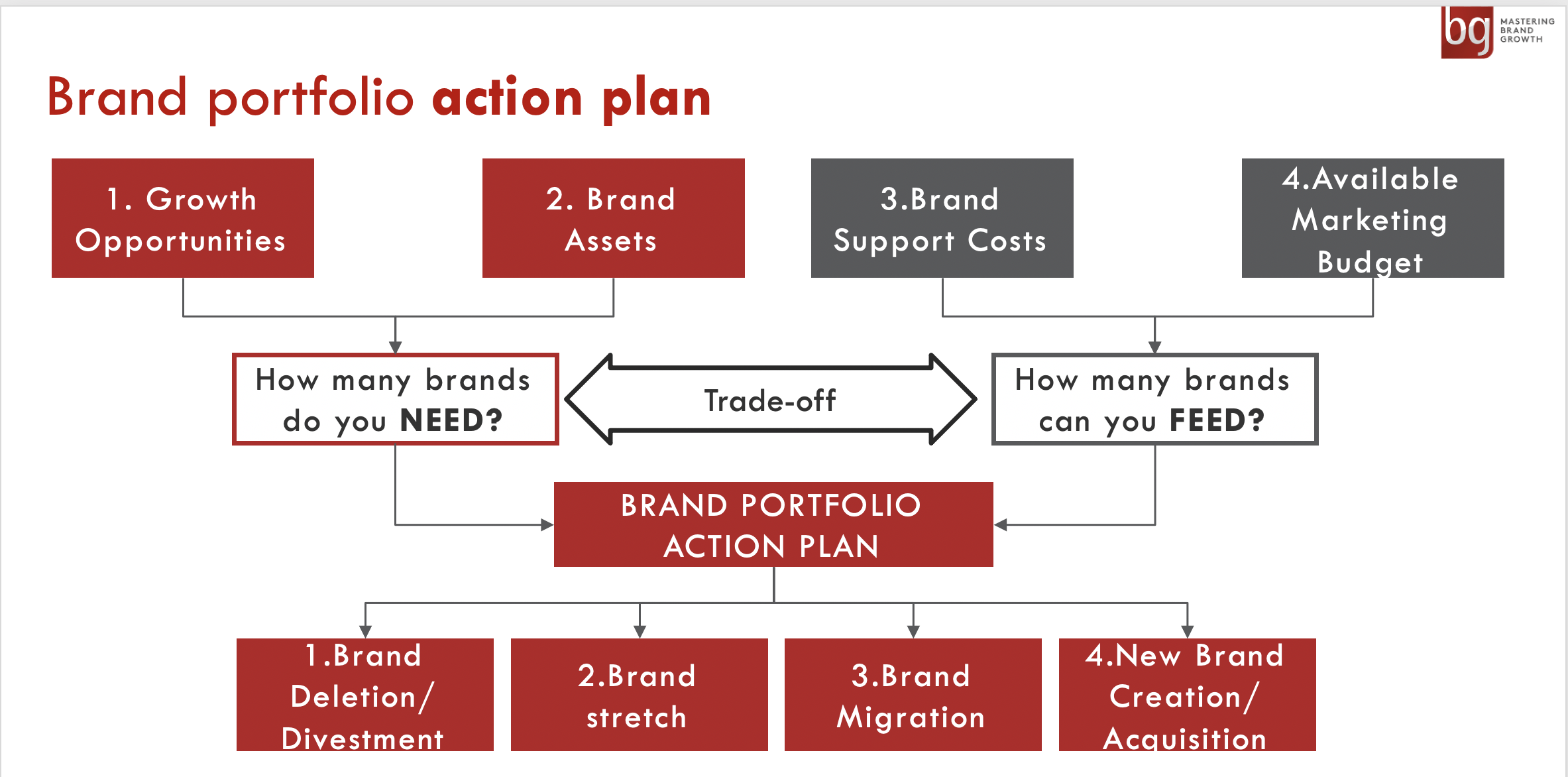 2. How many brands does Majestic Group NEED?

Migrating to a mono-brand portfolio is not an obvious move for the Majestic group to make, as the two brands do seem to be meeting different needs (see below). "Majestic Wine is an enduring and well-loved brand and it is a real shame to think it is being replaced by Naked," lamented Jamie Goode of Wineanorak.com (1).
The decision to kill the Majestic Wine brand would be easier to understand if the brand asset was weak and in decline. But the brand is 1.7x the size of Naked Wines. And investment to revitalise the Majestic stores, staff engagement and website seem to be showing early signs of progress (see below). Underlying revenue growth of 1.9% is not to be sniffed at in the current retail climate, where many chains are struggling and even going bust.

However, although Majestic is the bigger brand today, the growth potential of Naked is what counts in its favour. The brand grew revenues by +11.3% last year, and with EBIT growth of +571%, the brand now has a profit margin in line with Majestic.

The other key factor is the huge potential of the US market which is eight times bigger than the UK, and where the Naked Wines brand is present and growing. "It is clear that Naked Wines has the potential for strong sustainable growth," commented CEO (and Naked Wines founder) Rowan Gormley (1).
3. How many brands can Majestic Group FEED?

Whilst in theory it seems that Majestic and Naked could work as two distinctive and complementary brands, we have to balance this against the harsh business reality of what the company can afford.

Here, the comments of CEO Rowan Gormley clearly show that he believes the business only has sufficient resources to feed one brand, not two. "We believe that a transformed Majestic business does have the potential to be a long-term winner, but that we risk not maximising the potential of Naked if we try to do both." (1)

There are several benefits of Majestics's move from a dual-brand portfolio to one focused on a single brand. There are potential savings in design, commercial production, brand management, content creation/curation and especially web/mobile infrastructure. The latter is increasingly important for a business with almost half its sales online. In addition, all the marketing effort, both internal and external, can be focused on a single brand.

4. Why focusing on the Naked could make sense

My initial reaction as a Majestic Wine customer was concern about the death of the brand, and a worry that the remaining, re-branded stores would stock only the Naked range of wines.

However, Majestic Wine's MD, Josh Lincoln, reassured me in a reply to an email I sent expressing these concerns: "The good news is that Majestic's wine range will remain!".

Josh also suggested that the actual in-store experience would be upgraded as part of the re-launch, with the promise of "more tastings, more personalised service and more ways to find your next favourite wine."

This sounds like the 'New Naked Wines' could blend the best of both brands, with a single unified proposition that offers both:

i. wine direct from a select group of producers PLUS a broader range, and

ii. online ordering and subscription PLUS in-store experiences, advice and wine tasting.

Another interesting final in favour of the re-branding is that the Rowan, Josh and the team do seem to be going back the roots of the Majestic brand. Quoting again Jamie Goode of Wineanorak.com, it seems that Majestic had a similar proposition to Naked Wines it its early days: "They used to buy wines directly from producers – a winery would make a wine and Majestic would buy it." (1)

In conclusion, the Majestic Wine group's decision to focus on the Naked Wines brand is a great example of the trade off a business has to make when defining a portfolio strategy, balancing the number of brands they may need against how brands they can feed. On balance, I believe the focus on Naked Wines could work well, providing is the re-launch blends the best of both brand propositions.

For more insights on how to create a brand portfolio strategy, check out this earlier brandgym blog post.

Sources:

(1) https://www.bbc.co.uk/news/business-47691075