Revitalisation helps Breitling brand fly higher
A pull-out newspaper supplement for luxury watch brand Breitling grabbed my attention this week (see below). The second edition of The Breitling Chronicle covered the re-launch of the Superocean collection. I'd previously considered Breitling to be a serious, technical pilot watch and not for me. But I actually liked the design of the new watches. And the cool lifestyle content related to surfing was seductive. On digging deeper, I discovered that the brand has undergone quite a revitalisation.
Revenues soared to SFr680mn ($730mn) in 2021, up +55% over the past two years, according to a Morgan Stanley report quoted in the FT (1). Annual volumes increased from 140,000 watches to 190,000 over the same period and market share grew +0.4% pts. This performance is all the more impressive when compared to other high-end watch brands. "Breitling is substantially above the industry's average sales growth and even more so bottom line," observed Oliver Müller, founder of LuxeConsult.
The improved performance is reflected in a tripling of brand value in fours years. Private equity group CVC paid $930mm for an 80% stake in 2017. Fast forward four years to October 2021 and the 25% stake taken by investment firm Partners Group gave Breitling a reported valuation of $3.3bn.
In this post we look at the brand revitalisation approach that has enabled Breitling to fly higher.
1. Lead by example: brand CEO
The Breitling growth story is another where a 'Brand CEO' played a leading role.Georges Kern left a senior role in the Richemont Group in 2017 to head up Breitling. Brand CEOs lead by example, not just by words. They are the living, breathing embodiment of the brand. "He was seen as having the right combination of Swiss watch industry experience and maverick tendencies to shake up a brand in need of fresh thinking," according to the FT article (1). Kern's commitment to the cause was reinforced by him having a 5% stake in the business. And the private equity owners appear to have given him the freedom to radically revitalise the brand. "We've been radical. And we've been totally free," he told the FT. "They [CVC] let us work — we are the specialists, the professionals."
2. Drive penetration
As we've posted on many times, penetration to reach as many people as possible is the key to growth. And reading the comments of Georges Kern in the FT, it's clear that his focus was on driving penetration. His approach to revitalise the brand and drive reach risked pissing off some brand purists who had been loyal buyers. "Watches are very emotional. When you change so much, you have to gain more than you lose. Of course, we lost customers," he observed. But this was a risk Kern felt was worth taking given the opportunity to recruit new users. "You need to score more goals than you concede — and we scored many more."
One example of driving penetration was to increase appeal to female consumers with smaller format watches, some using pastel-shaded designs. Women now make up 12% of sales, up from practically zero only five years ago.
3. Evolve the positioning
The revitalisation of Breitling started with an evolution of the brand's positioning. The brand became famous for being a pilot's watch, with strong links to aviation. "In the 1930s, Breitling introduced onboard chronographs for aircraft cockpits. In 1952, Breitling launched its Navitimer chronograph, a favorite among aviation enthusiasts ever since," explained watch retailer Brufords (2). The focus on aviation was reflected in a logo featuring two wings and the slogan, Instruments for Professionals. The product line-up was, as far as I remember, made up mostly of highly technical looking watches with lots of complex design features and detailing.
The brand's marketing also focused on flying, with the sponsorship of The Breitling Jet Team, who were featured in advertising (below). These guys were talented pilots and got a big thumbs up from my brandgym partner David Nichols, an acrobatic pilot himself! However, looking back, they had less appeal for a new, younger luxury watch buyer. Others advertising featured John Travolta. The actor also had link to flying, being a qualified pilot with his own airfield and Boeing 747! But again, he felt a bit old and stale for a brand in need of youthful energy.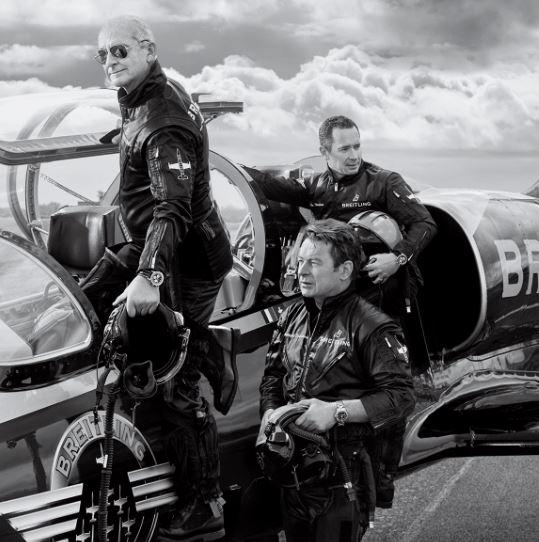 With the re-launch, Breitling's leadership remembered and refreshed what made the brand famous. They kept the brand's sporty and technical heritage, rooted in aviation. At the same time, the brand was updated to reach a broader audience, including younger people. The Jet Team was cancelled in 2019 and with a series of "squads" taking their place. "The squads are aligned with Breitling's new collection segments: air (the aviation pioneer squad), sea (the surfing squad) and land (the cinema, triathlon and exploration squads)," explained a Forbes article (3). The cinema squad is the most high profile, featuring Brad Pitt, Charlize Theron and Adam Driver. The squad approach is captured in the brand's purpose/mission:
Breitling celebrates the collective spirit of squads united in pursuit of their mission. Fuelled by camaraderie and driven by purpose, we accomplish more together than we could alone. #SQUADONAMISSION
Taking the brand beyond aviation to broaden appeal was also reflected in an updated logo, without the wings. There was also a smart tweak to the typeface, moving to a sans serif execution that looks bolder, cleaner and more contemporary.
4. Focus your portfolio
As with many brand revitalisation stories, this one involved portfolio focus. "With 600 product lines, Breitling was far too confusing for consumers," reported the FT. "It trimmed them down to 150 references and got rid of what Kern calls 'visual pollution'" (1). The brand focused on three core collection, each with 15 to 20 models:
Air: Navitimer range
Sea: SuperOcean range
Land: Chronomat range and elegant watches
5. Upgrade the core product
Breitling's revitalisation would not, I suggest, have been anywhere near as successful if it focused only on visual identity and communication. An upgrading of the core product played in key role. Perhaps most importantly, the brand's iconic Navitimer line of pilot's watches was updated. The objective was to achieve a 'modern retro' look, which again balanced freshness and consistency:
Consistency: the highly distinctive slide rule calculator is maintained, even if not many people ever use it! The 3 smaller dials are featured. And in a nod to the past, the winged symbol of the AOPA (Aircraft Owners and Pilots Association) is returned to its original position at 12 o'clock
Freshness: there is now a range of sizes to suit all wrists. And a range of colours including bright, bold watches in blue and green
The re-launch of the Navtimer was followed more recently by the new version of the Superocean collection, riding the wave of surf culture. Again, there has been a delicate balance of freshness and consistency. "The new Superocean retraces the desk while adding modern features and colourful designs to meet today's water sports demands", explained the latest edition of the The Breitling Chronicle.

6. New communication channels
Kern made a bold decision to take Breitling out of the annual trade show cycle, focused on a narrow audience of industry insiders. Instead, Breitling has focused on developing new communication channels with broader reach. These new channels include a series of webcasts called Breitling Summits. The webcasts have have high production values and feature CEO Kern as the host of interviews with high profile people including Breitling squad member Charlize Theron. These webcasts have attracted "millions" of viewers according to Kern's interview with the FT.
7. Drive distribution
Distribution to drive 'physical availability' has also played a key role in Breitling's brand revitalisation. The company is expanding its collection of boutiques, with plans to grow from 160 to 200 this year. The boutiques drive distinctiveness and bring to life the brand's more up to date positioning. Instead of the typical serious, stuffy ambiance of a luxury watch shops, loft-style stores offer pool tables, bars and trendy furnishing (see below). "This means that customers feel instantly welcome, at ease and literally at home when entering a Breitling store," Chief Sales Director Nasr Benaissa told Forbes magazine (3).
Breitling is also adapting its online store to drive reach and open up the brand to new audiences. New payment options allow customers to pre-order a watch with a partial down payment, for example. "This lets customers lock down and reserve pieces they are really interested in, and also allows us to better forecast product sales," explained Chief Digital and Technology Officer Antonio Carriero (4).

In conclusion, Breitling shows how to remember what made you famous whilst also looking forward to refresh your brand, with a focus firmly on driving penetration to recruit a new generation of consumers.
SOURCES
1. FT article
4. Online store