£billion DIY disaster shows perils of re-positioning
This week Australian retailer Wesfarmers offloaded Homebase for a nominal £1 and took a whacking £1.1 billion write-down, just two years after paying £340 million for the the British DIY chain. "Homebase is undoubtedly the most disastrous retail acquisition in the UK ever," commented retail analyst, Patrick O'Brien (1).
This DIY disaster has some useful business lessons. In particular, it shows the risk of being arrogant, not humble, when expanding into new markets and the perils of trying to re-position a brand rather than revitalise it.
1. Be humble when entering new markets 
Wesfarmers planned to replicate the success it had in Australia with the Bunnings DIY chain. But rather than being humble and learning from the Homebase team about the UK market, the Australian management team led by Bunnings veteran Peter "PJ" Davis appear to have been arrogant. They "axed the entire Homebase senior management team and about 160 middle managers as soon as they got the keys to the stores," according to an article in The Guardian (1).
The lack of local know-how was reflected in almost comical merchandising decisions, such as selling electrical products with Australian plugs not British ones, garden pots that were not frost-proof and a large range of barbecues during the winter.
2. The perils of re-positioning
Homebase's problems shows the perils of  trying to re-position a brand and make it stand for something totally different, rather than revitalise it by remembering and refreshing what made it famous.
Up against market leader B&Q, Homebase had made itself distinctive by stocking home furnishings from brands including Laura Ashley and Habitat, with a focus on kitchens.
The new owners went for radical change. The Habitat and Laura Ashley concessions were removed and Homebase stopped selling kitchens. In an attempt to appeal to hardcore DIY-ers, in came extensive ranges of power tools, big and expensive gas barbecues and log splitters.
The problem with this sort of re-positioning attempt is that 'memory structure' linked to a brand is hard to change. Existing Homebase customers were probably put off by the revamped offer and shopped elsewhere. And hard core DIY-ers had 'hard-wired' perceptions that the Homebase wasn't for them. Net, Homebase was hit twice: losing existing customers and failing to attract new ones.
3. Test, learn, expand
A better approach might have been to test, learn and expand rather than going for such radical, wholesale change. Indeed, results from the 19 pilot conversions of Homebase stores (out of a total of c. 270) to the Bunnings brand appear to have been successful, with "40% sales uplift and half the pilots delivering positive contributions", according to one article (2).
With these pilot stores, the new Bunnings branding signalled that this was a different DIY experience, giving Westfarmers a chance to drive penetration and attract new customers. Who knows, a distinctive, rough and tough Aussie style take on DIY might have appealed to the core male DIY buyer.
The Bunnings brand offer could have been refined and expanded, at the same time as keeping the Hombase store estate 'ticking over' with low-cost refreshment. Over time, more and more stores would have been transitioned to to the Bunnings brand as per the original ambition.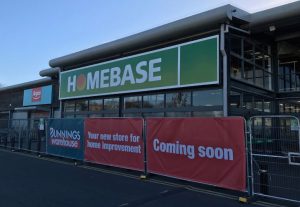 In conclusion, Westfarmer's expensive misadventure into the UK market dramatically shows the need to be humble, not arrogant, when expanding internationally or taking over a brand, with revitalisation rather than re-positioning more likely to succeed.
1. https://www.theguardian.com/lifeandstyle/2018/mar/30/homebase-is-undoubtedly-the-most-disastrous-retail-acquisition-in-the-uk-ever
2. https://www.hortweek.com/next-bunnings-uk-massive-write-down/retail/article/1456270