The Oatly brand growth story part 1: driving distinctiveness through the mix
The Oatly brand growth story is an amazing one. After 20 years of relatively low and stable revenues to 2014, a sleepy Swedish oat milk has transformed itself into a hyper-growth, lifestyle brand (see below). The company's IPO in May valued the brand at an eye-popping $10billion: 24 times revenues (a PE ratio is impossible as Oatly is loss-making). For perspective, Danone's $46billion valuation is only 4.5 times that of Oatly, despite $28billion of revenue that are 67 times bigger, including the Alpro dairy alternative brand. Alpro has c. 3x the European market share of Oatly (25% vs. 9%) and already had revenues of $650million back in 2016.
So, what are the secrets of the Oatly brand growth story, in terms of revenue and market valuation? In this first post I answer this $10billion question by looking at the critical role played by driving distinctiveness through the whole mix. A follow-up post will cover two other core growth drivers: distribution and core range extension.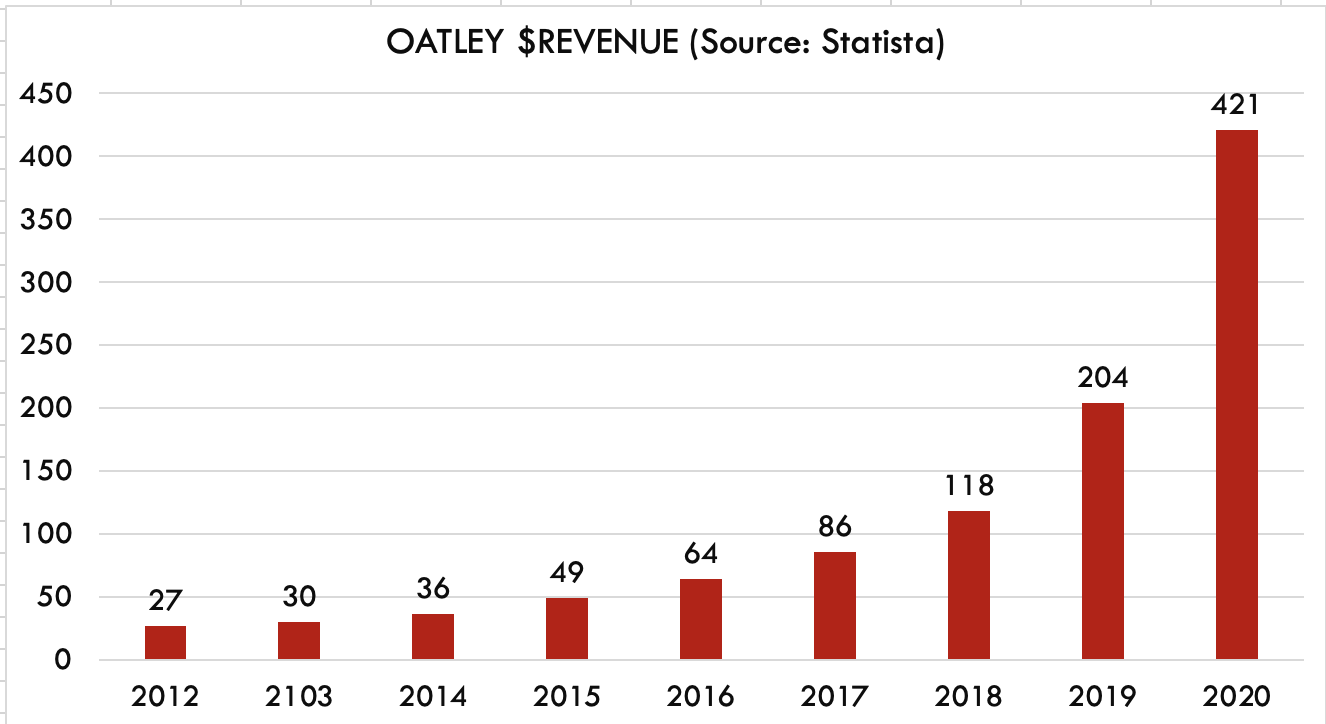 1. Define your market broadly
The first part of the Oatly brand growth story involves correctly defining your 'addressable market'. A key point we cover in our Mastering Brand Growth program is to avoid defining your market too narrowly in terms of direct competition. Oatly initially did just that, focusing on the cholesterol-lowering heath benefit of oat milk versus other dairy alternatives like soya (below). The problem with this approach was that "Oatly would dig itself deeper into a small functional niche where the focus would be the infighting between plant based alternatives," as a IHT post explains (2).
The company avoided attacking the much bigger dairy market head-on. This reflected a distribution model using a regional dairy and "lack of internal commitment to go up against the dairy industry," according to IHT (2).
However, a change of leadership in 2012 led to a change of strategy and a market definition including non-dairy and dairy drinks. This opened up huge growth opportunities for Oatly, as milk is still a much, much bigger market. In the US, for example, Oatly has driven rapid growth of oat milk to c.$250million and has a 40% share. But this is only 13% of the dairy alternatives market, which is in turn only 1/6 the size of the dairy milk market. So, Oatly's share of the total addressable market is only 0.7%.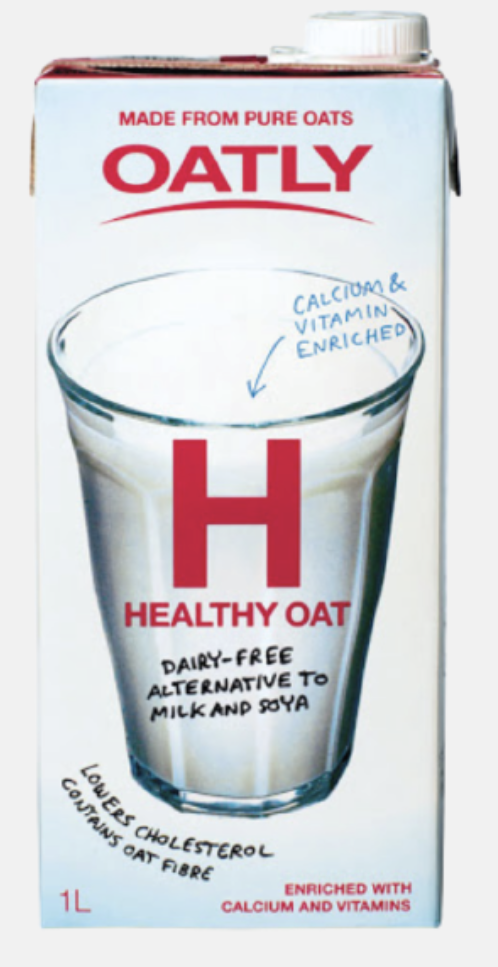 2. Have a Brand CEO & Creative Director double act
A key turning point in the Oatly brand growth story was the appointment of a new CEO at the end of 2012. Toni Peterson is what we call a 'brand CEO': the living embodiment of a brand who leads through bold actions more than words. Toni brought with him a creative partner, John Schoolcraft, who as Creative Director would play a critical role in the Oatly re-launch. John explains the importance of having an in-house creative team at Oatly. This allows for a much more agile, responsive and bold approach to marketing than in a conventional set-up with a marketing department and multiple agencies.
This leadership double act reminds me of a similar team that lead innocent smoothies during their rapid expansion in the 2000's: founder and CEO Richard Reed and Creative Director Dan Germain. I posted here about a visit to meet Dan at Fruit Towers, innocent's HQ, back in 2007. I saw first-hand how Dan pioneered many of the things that John has used to help Oatly grow, including i. in-house creative team at the heart of the business, ii. distinctive visual identity, iii. challenger mentality and culture, iv. use of packaging as a communication channel (see below for a picture from Dan's office with the design for the upcoming quarter's packs, each one with its own copy!)
3. Create a clear positioning
Under the leadership of Toni Petersen, Oatly clarified, crystallised and visualised their positioning. In contrast to the scientific approach focused on health benefits used before, Oatly positioned itself as an 'activist brand' on a mission to take on the big dairy players head on. The core target was people for whom a plant-based diet was a lifestyle choice based on a belief in sustainability, not a rational habit based purely on health benefits.
'The Oatly Way' visualised how it was more energy and environmentally efficient to produce milk straight from plants, rather than the indirect route via cows. This was summed up with the slogan, 'Wow no cow!', and the product descriptor, 'It's like milk, but made for humans' (as opposed to made for baby cows).
This positioning was central to the Oatly brand growth that followed.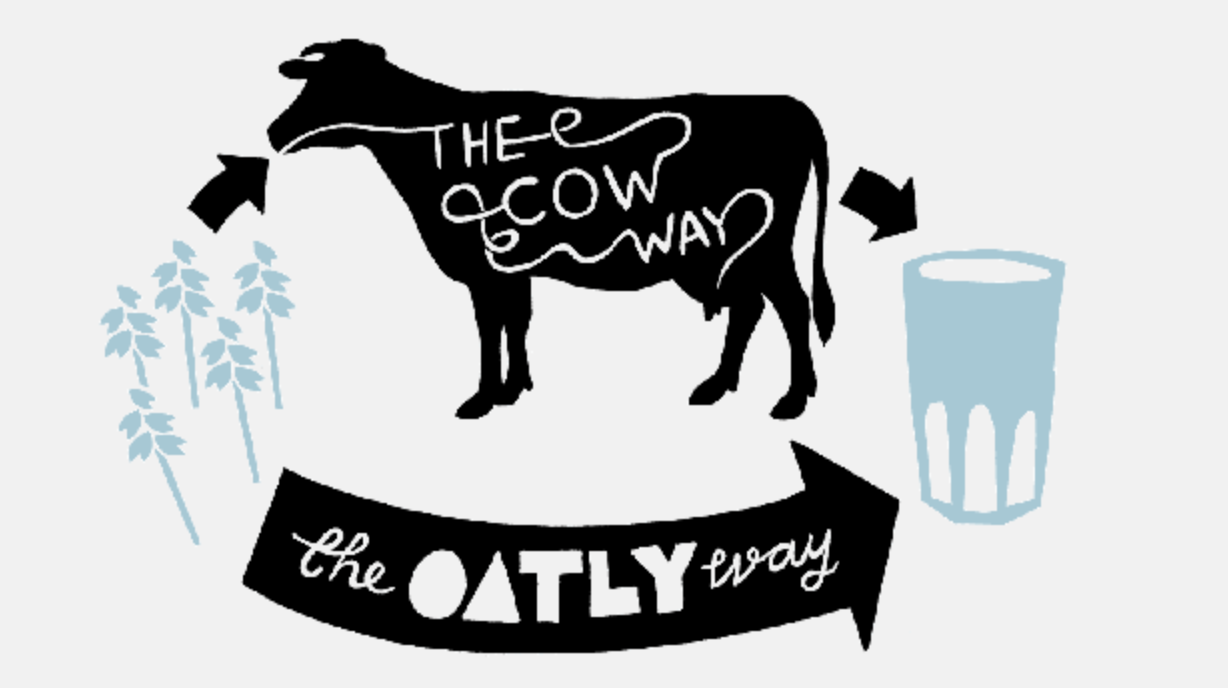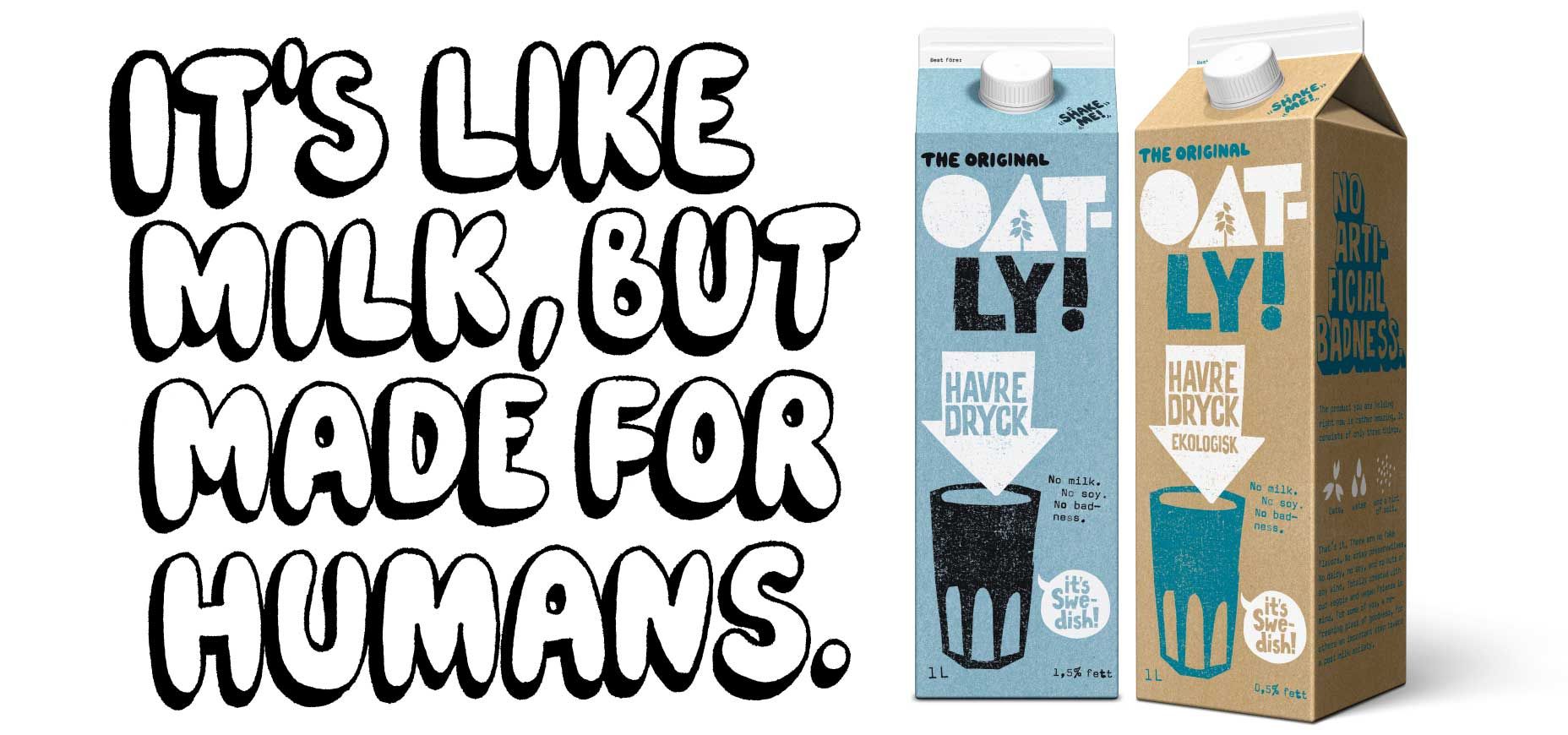 Being an activist brand is a bold move that requires total commitment from the senior team, as I posted on here. Taking such a provocative stance is likely to provoke a backlash, as was the case with Oatly. The Swedish dairy lobby sued Oatly for the claims made above. They also had an issue with the Oatly Way visual which they felt showed that dairy milk comes out of a cow's bottom, not the udder. Oatly did what strong activist brands did and used the attack to their advantage. The company published the law suit online, took out adverts to show they were being "bullied" by the big, bad diary companies and generated loads of free PR.
4. Drive distinctiveness through the mix
John Schoolcraft and his cretaive team created one of the most distinctive visual identities of recent times for Oatly. The design is a magical alchemy of different elements: the logo on two lines integrating a plant symbol in the 'A', the typeface, the colour scheme. The packaging is dramatically more distinctive than the previous pack designs (see below).
As innocent did 10 years earlier, Oatly then used what we call 'packvertising'. This involves using you packaging as a free communication channel. This helps get across your brand positioning and also your tone of voice. Again, like innocent, the brand has a highly distinctive tone of voice that comes across through all its communication: provocative and fun, with a smart sense of humour.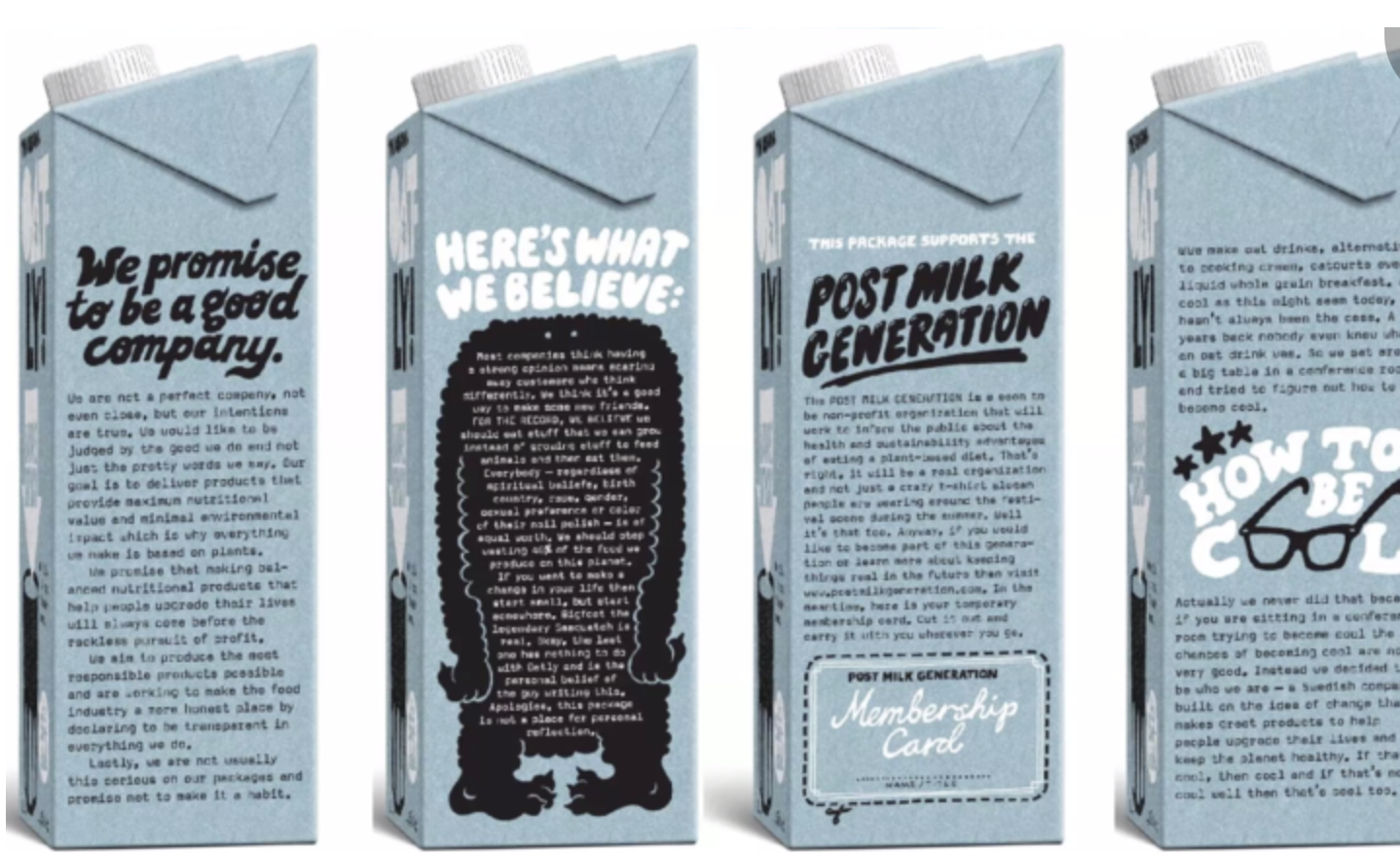 What is then impressive is how Oatly have driven this distinctive visual identity consistently through every single channel to create impact. Whether it be outdoor posters, social media or events, the Oatly brand imprint is immediately obvious.
The brand has also embraced the idea that 'the medium is the message' through its creative use of media. I love the fact that the brand focuses particular effort on good old fashioned outdoor posters, such as the example below repeating the same poster multiple times. Or another one proclaiming how the brand created a mural instead of an Instagram post.
5. Create a distinctive investor brand
Not only is Oatly as masterclass in consumer marketing, it also shows how to create a distinctive investor brand. The price investors paid for Oatly shares has no real rational logic. As mentioned at the start, the IPO share price was 24 times revenue. Oatley themselves stated in black and white in their SEC filing, "We have a history of losses, and we may be unable to achieve or sustain profitability" (4).
What Oatly did is to turn its stock into a lifestyle proposition. A chance for investors to buy a bit of a brand that was bang on trend, super cool, growing fast and chosen by celebrity shareholders (including actress Natalie Portman, the former Starbucks chief executive Howard Schultz and talk show host Oprah Winfrey). In the same way people pay $150 for a white Dior t-shirt, 15 times the price of a similar t-shirt from H&M, investors are ready to pay 15x more for Oatly stock (24x revenues) than Danone stock (1.6 times).
In conclusion, the Oatly brand growth success shows the power of defining your market broadly, creating a bold brand positioning and then driving distinctiveness through the whole mix. It also shows the critical role played by a visionary brand CEO coupled with a talented in-house creative team.
PRACTICAL TOOLS TO START GROWING YOUR CORE
To get some practical help to grow your core business, you can download our Core Growth Driver toolkit by using the form below. This walks you through the 8 core growth drivers we've used on consulting projects and in training for leading companies including Mars, Unilever, Mondelez and AB InBev.
We also offer a short, on-demand course on our brandgym Academy platform here. The course is only £95+VAT and is fully refunded if you go on to take the full Mastering Brand Growth program.
And for more insight on distinctiveness, see this earlier post.
Sources: